I realise we've now hit winter here in Australia but I have to say I'm totally hooked on the tropical summer motifs that are being shared by my northern hemisphere friends. This is some form of crazy denial of the weather on my part – which isn't surprising given winter is my least favourite season of the year and summer patterns are so much more fun.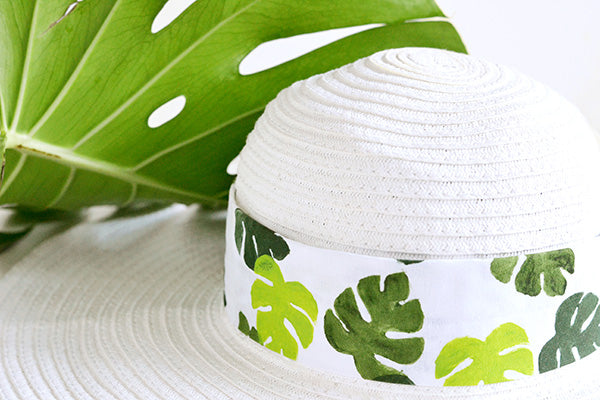 But in this case, I also have a fantastic reason for indulging my summer addiction and that's because I'm sharing a project in this year's issue of Merry Mag Summer! Pinch me now – I'm so stoked to be to be featured amongst such a talented group of bloggers and makers. And I'm truly grateful to Melissa from The Sweet Escape for including me in this season's beautifully curated online mag.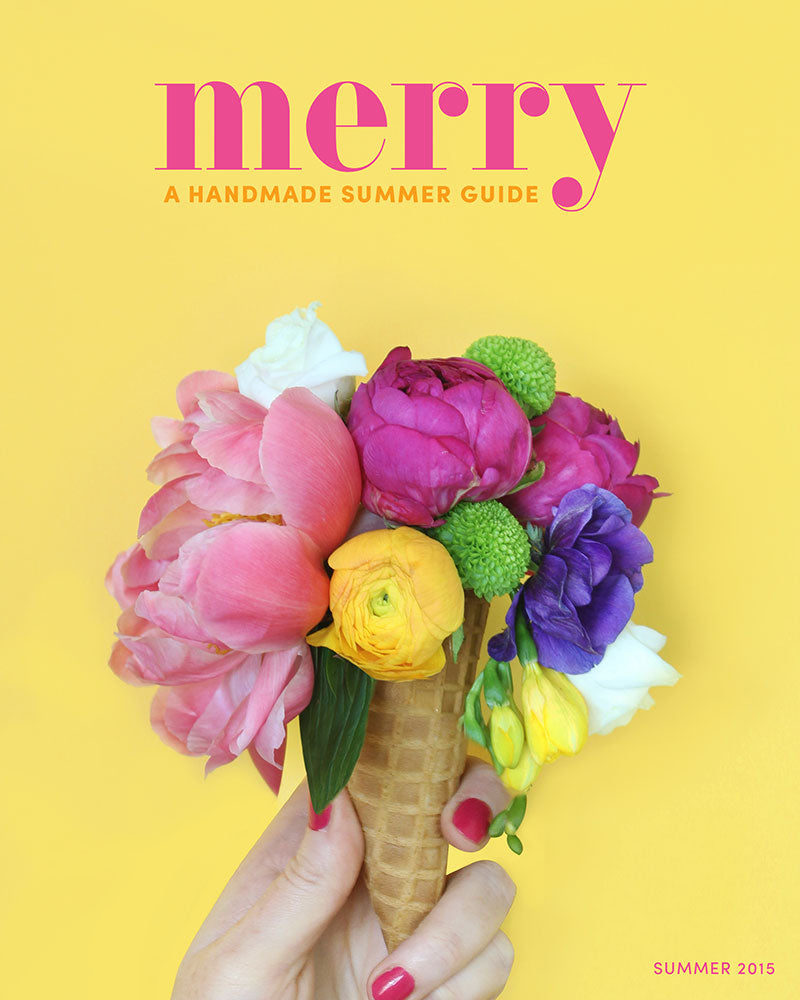 If you'd like to see all the wonderful summer projects on offer (and trust me, you really do), you can find them all the latest edition of Merry Mag. And if you've got a hankering to make yourself a tropical leaf hat band, see below for all the details!
Materials
Sun hat (I used this one)
Cotton fabric
Scissors
Paint brush
Fabric glue
Wood block, acrylic block or other mount for your stamp (I used a cardboard box lid)
Iron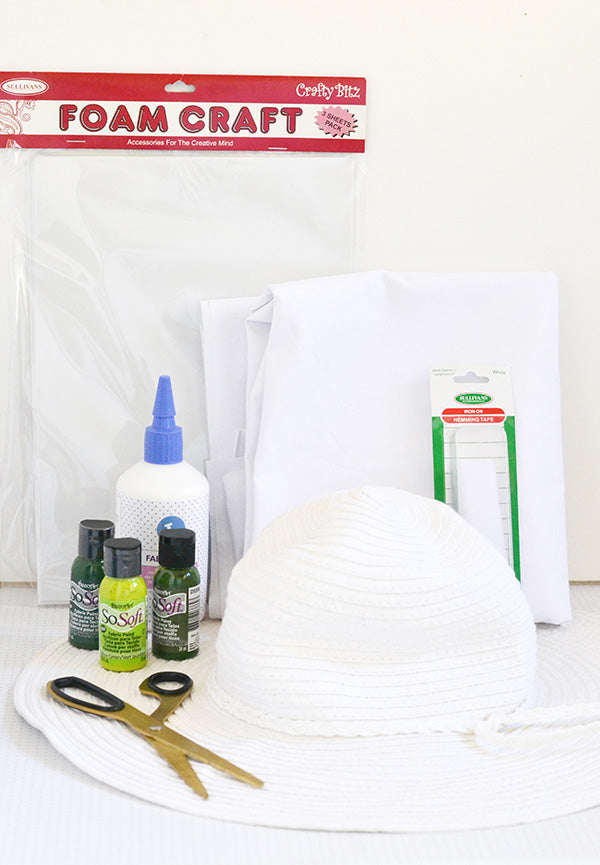 Step 1
Measure the circumference of your hat so you know how long to make your hat band. Once you have the circumference, add on two centimetres / an extra inch to that length – this will allow the ends of your hat band to overlap and fasten once it's wrapped around your hat.
When you have the circumference (plus that inch extra), work out how wide you'd like your hat band to be, and then double that width. This will leave enough fabric for you to add a hem on each side so your hat band doesn't fray.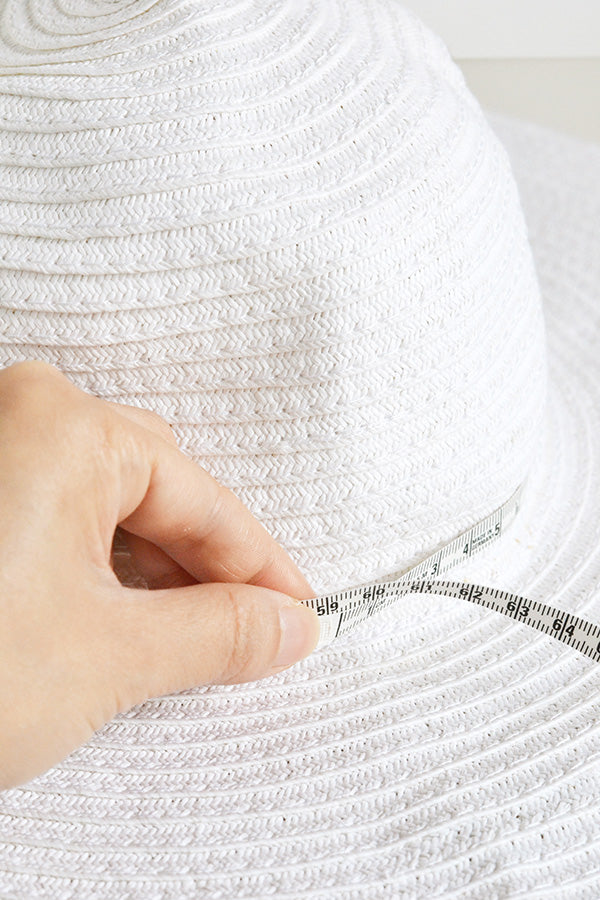 Step 2
Armed with the measurements you obtained in Step 1, mark out the length and width of your hat band onto a piece of cotton fabric and cut to size.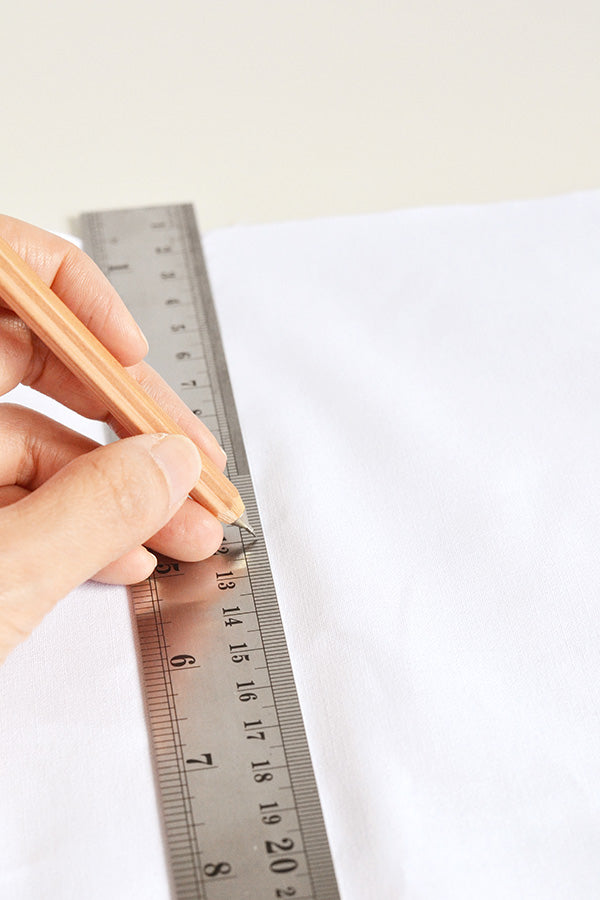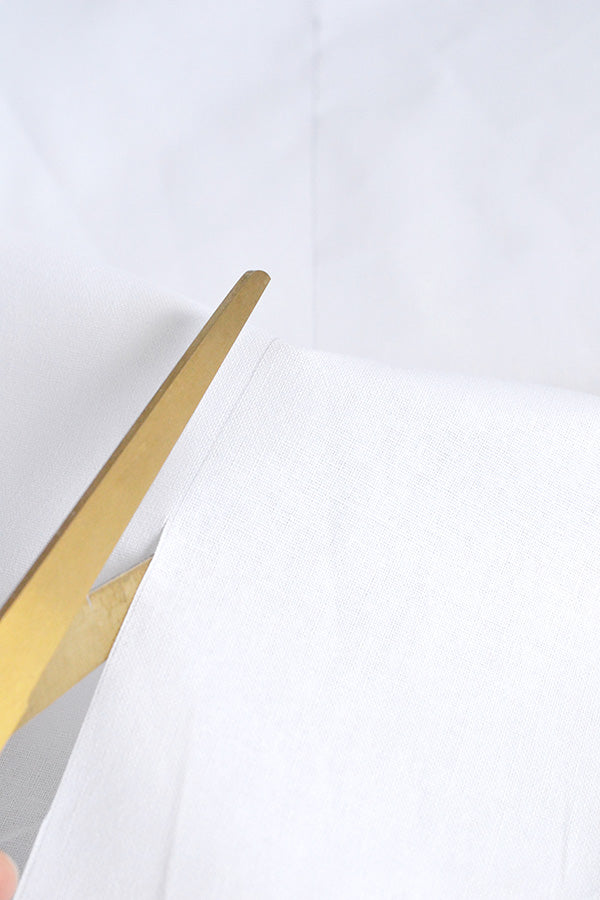 Step 3
Download the tropical monstera leaf template (at the end of this post) and print it out onto card stock.
Cut out the leaves (three are provided, but you should only need one).
Step 4
Use the cardboard leaf you just made to trace leaf shapes onto your foam sheet. Then cut them out.
(side note: I traced and cut out three foam leaves – one for each shade of green paint I had)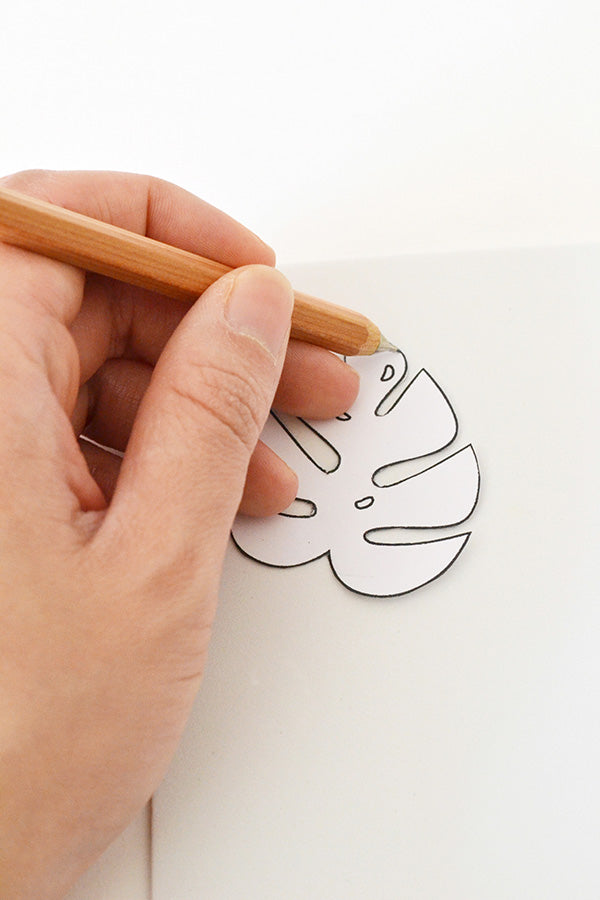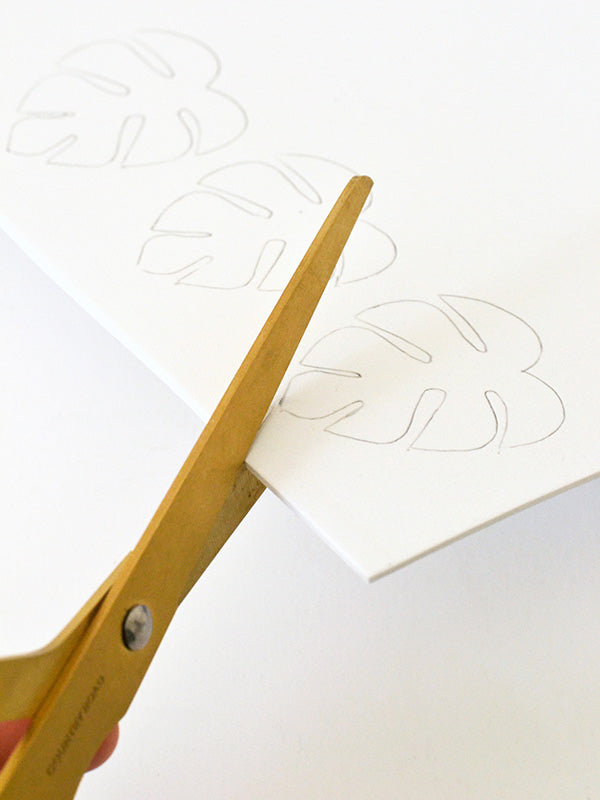 Step 5
Take one of your foam leaves and glue it to your wooden stamp block using craft glue. As you can see, I didn't have a wood block, so I just mounted my stamp onto the lid of a cardboard gift box and it worked a treat!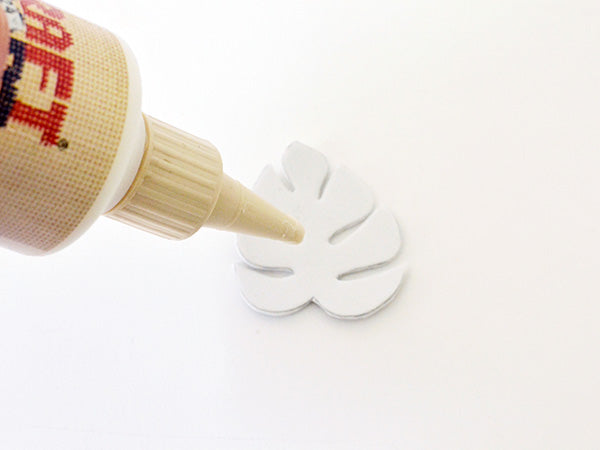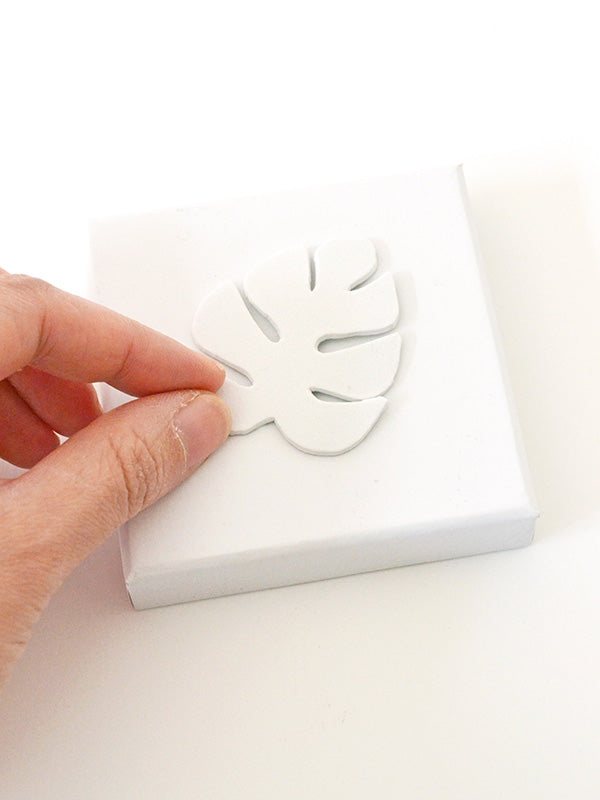 Step 6
Lay down a sheet of plastic to protect your work surface. Then use a paintbrush to add paint to your stamp and start stamping leaves onto your piece of fabric.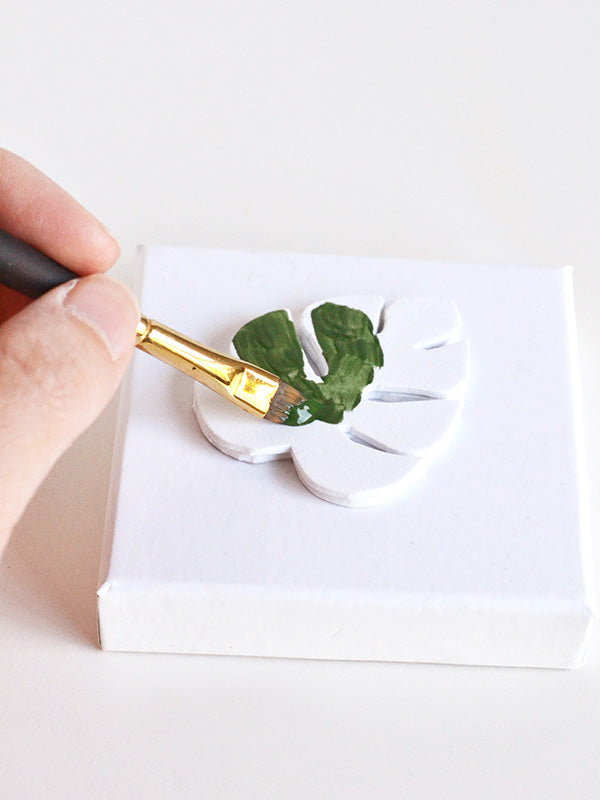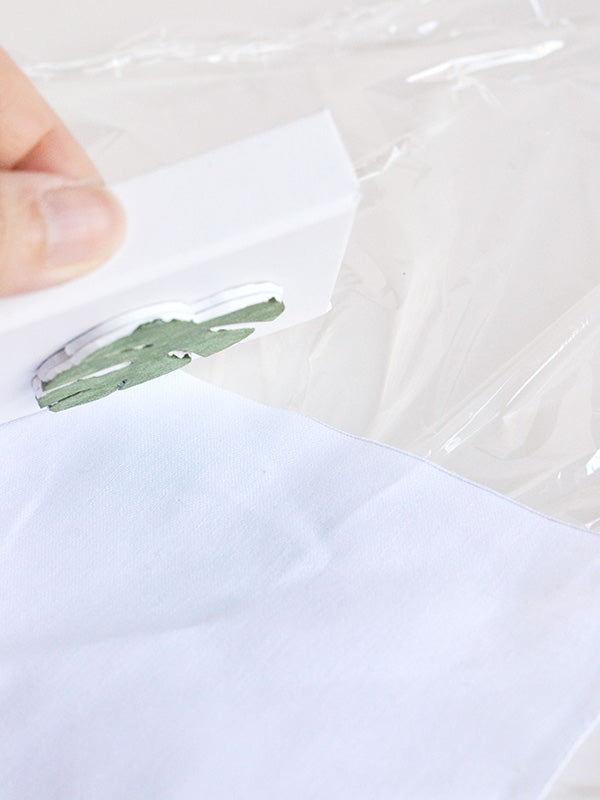 I'd strongly advise testing your stamp out on a scrap of fabric first before using it on your hat band so you can get an idea of the amount of paint you need to apply. I wanted my leaves to be bold and full of colour, so I used a lot of paint and also used a paintbrush to fill in the areas that didn't come out quite so well from the stamping.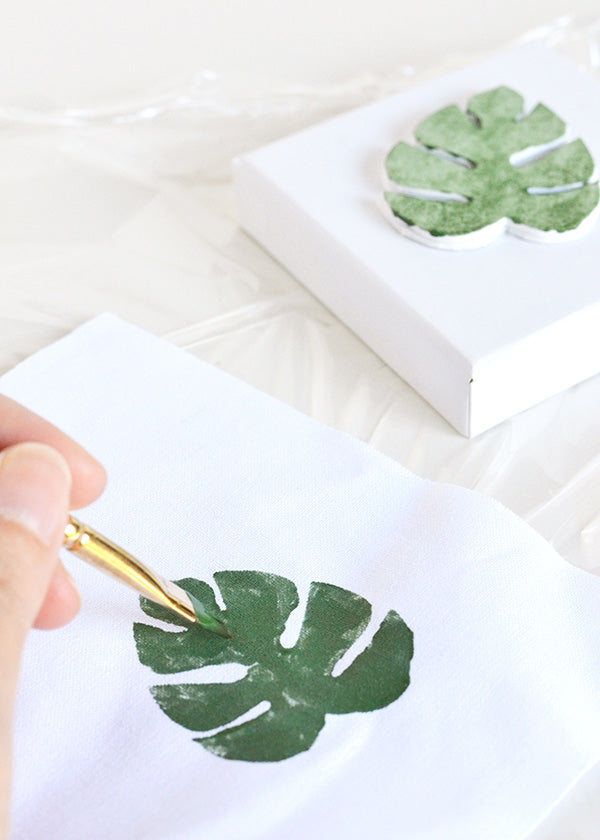 The way you choose to stamp on your leaves is totally up to you, but I found that doing one shade at a time worked well. I waited until each colour dried before stamping on the next one; this way, I could overlap the colours without worrying about the first layer smudging.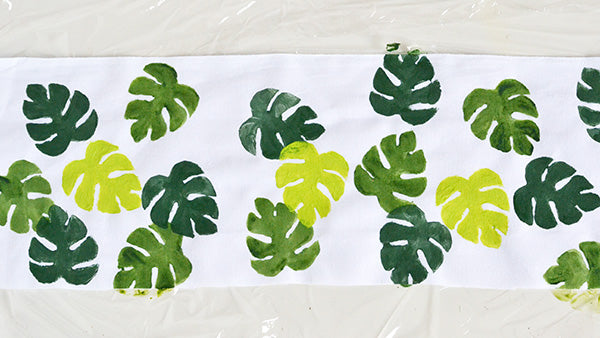 Step 7
Once you've stamped on all your leaves and the paint has dried, turn your fabric over so the pattern is face-down. Fold the material so that the long sides meet in the middle and go over it with an iron. This will create nice creases to mark out your hems.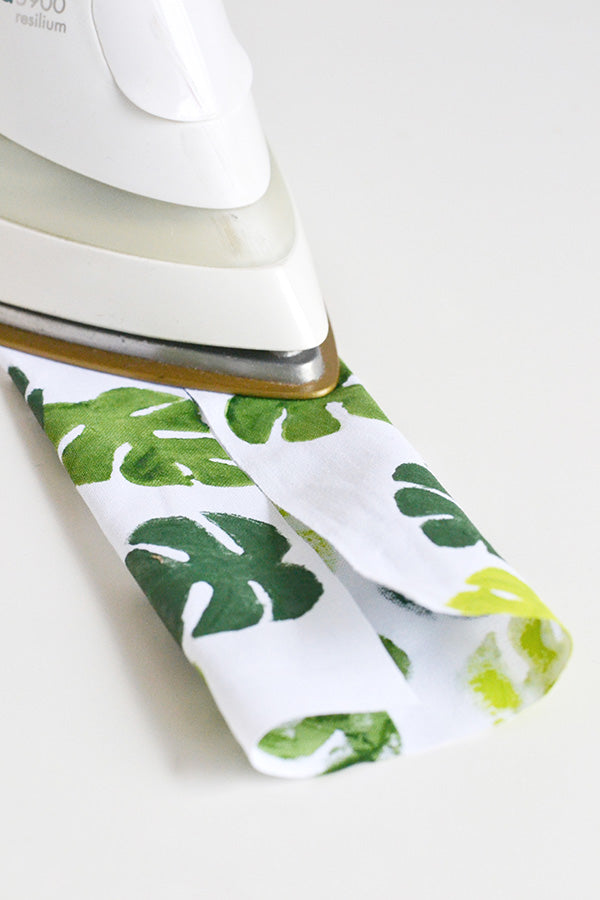 When your hems have been ironed into place, add a strip of hemming tape underneath each one and iron it again so that the hem is well stuck down.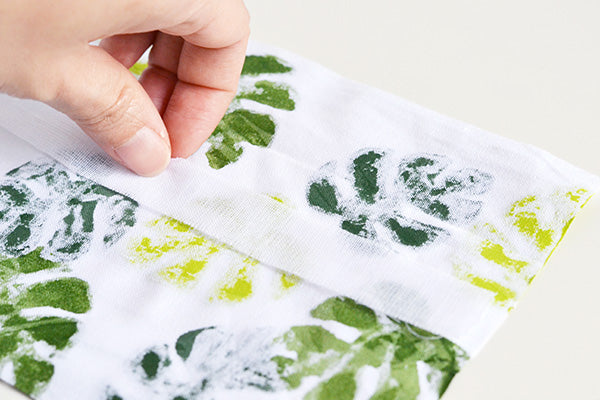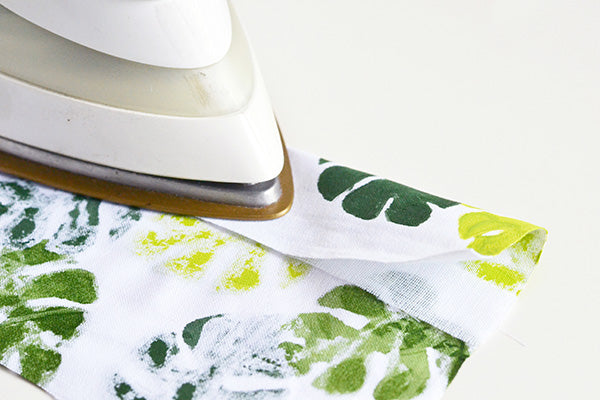 Step 8
Repeat Step 7 at the short ends of the hat band so that they're also hemmed.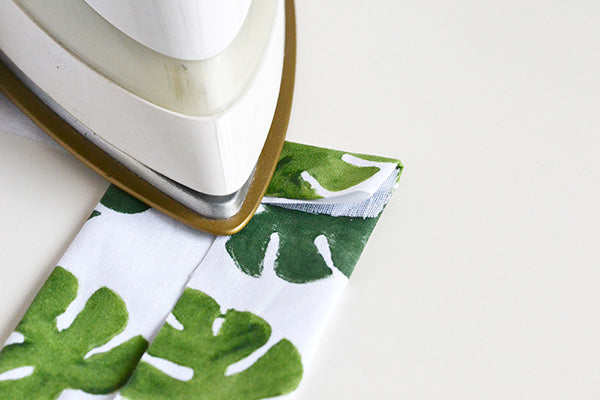 Step 9
Once all your hems are fixed in place, wrap the band around your sun hat and overlap the ends. Stick them together with fabric glue.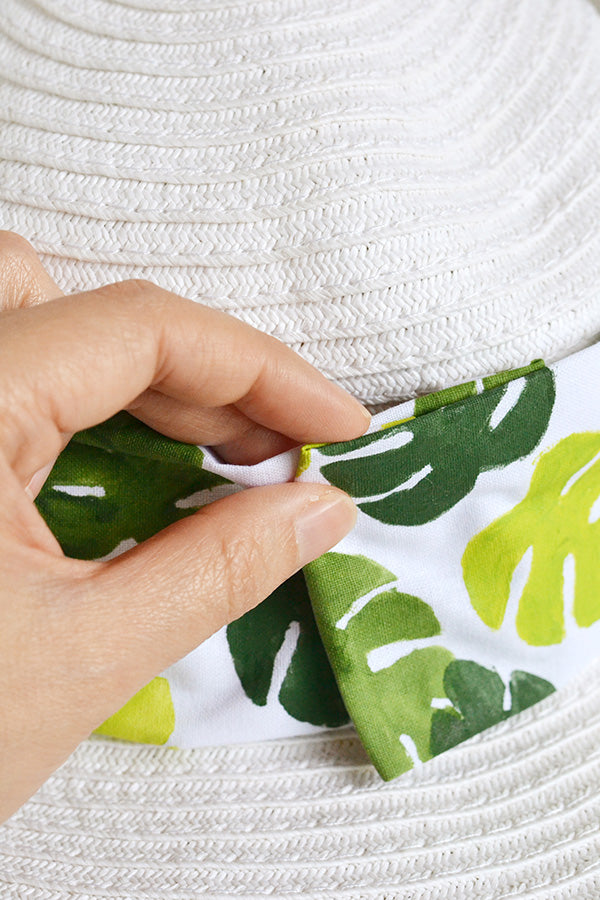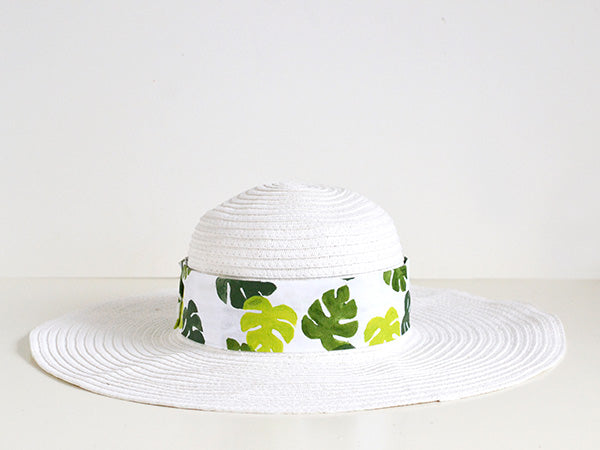 As you've probably figured out by now, this project is entirely no-sew, and that's simply because I can't sew to save my life. If unlike me, you're handy with a needle and thread, you can use those ace skills to stitch your hat band together instead of having to worry about tape and glue.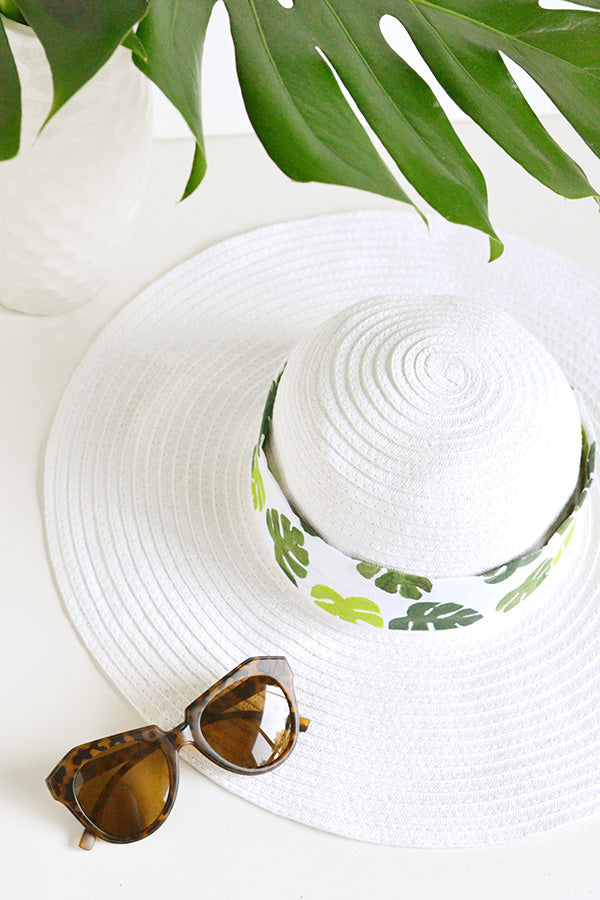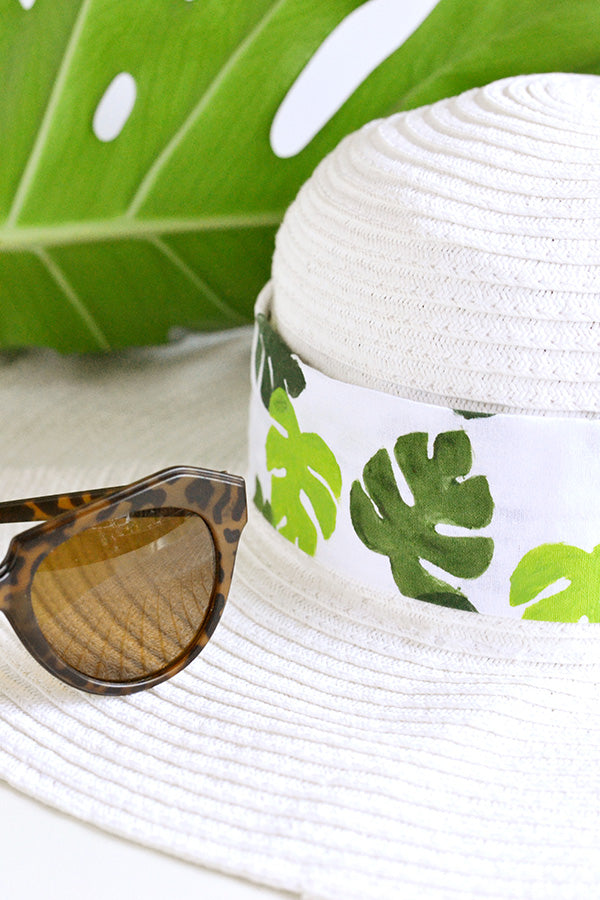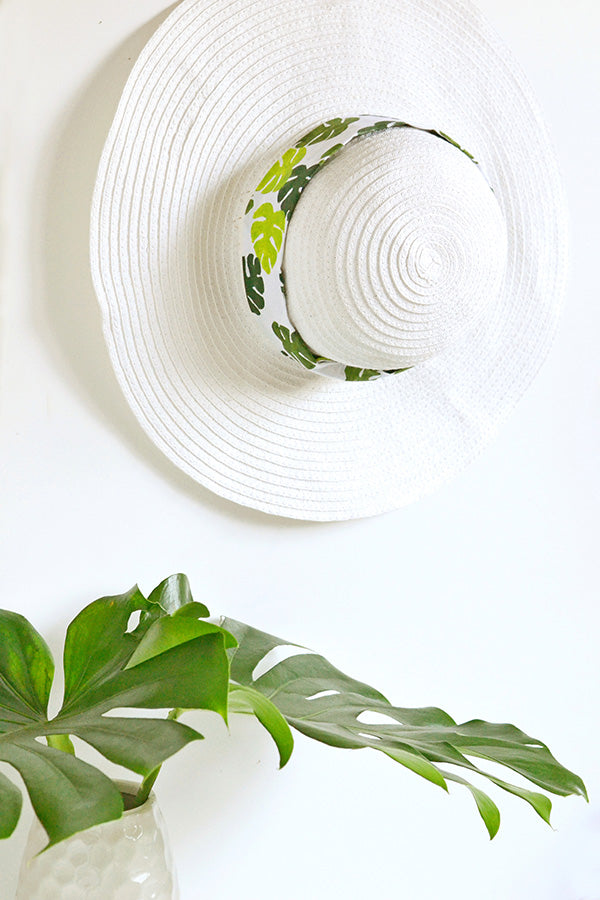 If I was craving summer before, I have to say this project hasn't lessened my enthusiasm for the warmer months – in fact I'm probably more crazy about summer than ever now that I've got with a tropical leaf hat to wear!
If you're feeling the same way, don't forget to check out the rest of the projects in Merry Mag – they'll be sure to feed your summer addiction. 🙂

xx Steph