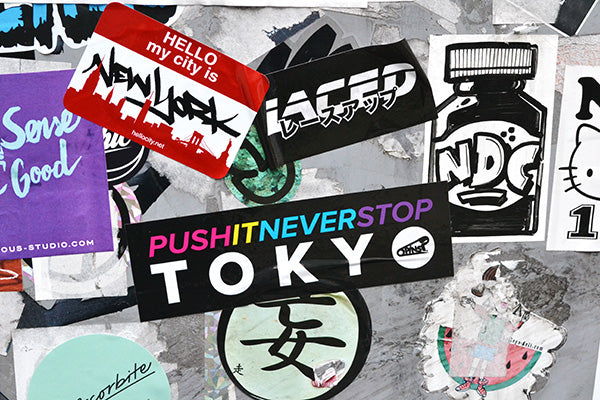 Bright lights, big city. I love just how perfectly those four words describe the last part of our trip to Japan. When we arrived in Tokyo, we were pretty much floored to the point of being speechless as we wandered through street after brightly lit street, gawking at the sky-high buildings, larger-than-life restaurants and rows of shops that never seemed to end. If we thought this country had been impressive before, we soon realised that we didn't know the half of it!
PLACES WE SAW IN TOKYO
Shibuya
When I booked our accommodation in Tokyo, Shibuya came up as one of the most recommended places to stay. But aside from having a vague idea that this was where the world's busiest crossing was, I didn't really know anything else about the area.
You know what guys? If you're travelling to Tokyo, definitely stay in Shibuya.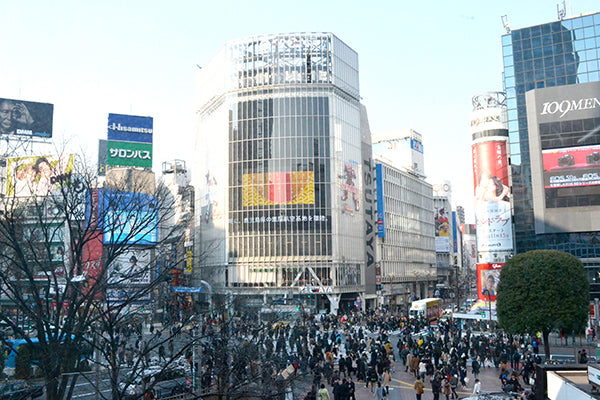 Okay I'll admit that I don't actually how it compares to staying anywhere else in Tokyo, but I can tell you we loved Shibuya. We stayed in an Airbnb that was just minutes away from the train station and the world's busiest crossing. We were in the centre of everything – shops, restaurants, bars – you name it, there was one right nearby. This was truly convenience at its best.
The atmosphere in Shibuya was vibrant, fun and youthful (most people seemed to be younger than we were) with plenty to entertain us from morning all the way into the wee hours of the night. And even though we spent several days in this part of town, I still felt there was so much more that we could have seen if stayed a little longer. But I guess you could say that about every part of Japan – there were always things we missed out on and plenty more to see if we only had more time!
Highlights of our stay in Shibuya included:
A visit to Tokyu Hands! DIY lovers take note, this store is heaven for crafters. With eight floors of creative goodness you'll be sure to find something for your latest project. But if making stuff isn't your thing, don't despair – down the road you'll find building after building just packed to the brim with the latest fashion, music, books and… well pretty much anything you could want to buy really. Shibuya is a shopaholic's paradise.
Fun landmarks… like the world's busiest crossing (okay, okay, I promise that's the last time I'll mention that one), Love Hotel Hill (as the name suggests, full of Japan's famous love hotels and funnily enough right around the corner from where we were staying) and the Hachiko statue, dedicated to the sweet story of an incredibly loyal dog.
Unusual restaurants like Genki Sushi. We happened upon this gem by accident and it was the most fun we've had at a restaurant in ages. Not only do you order your meals on a screen, they come out to you on a motorised train. And I'm not referring to your average conveyer belt, I'm talking about a tray on rails that stops right in front of you with your meal on it, and then returns to the chef once you've removed your food! I tell ya, this takes the term 'sushi train' to a whole new level. 🙂
Harajuku
Since it was so easy to get around Tokyo from where we were staying, we hopped all over the place to see as many sights as possible. One of which was the highly recommended Harajuku.
For those unfamiliar with the area, Harajuku is renown for its unusual fashion. The local teenagers have a style that's all their own, combining different hairdos, colours, patterns and accessories in the one outfit with wonderfully unique results.
Sadly we didn't see as much of the famous Harajuku fashion as I'd expected (possibly because we weren't there on a Sunday). But we did manage to catch glimpses of a few amazing outfits, and we came across plenty of stores that sold all manner of alternative, retro or simply wild clothing.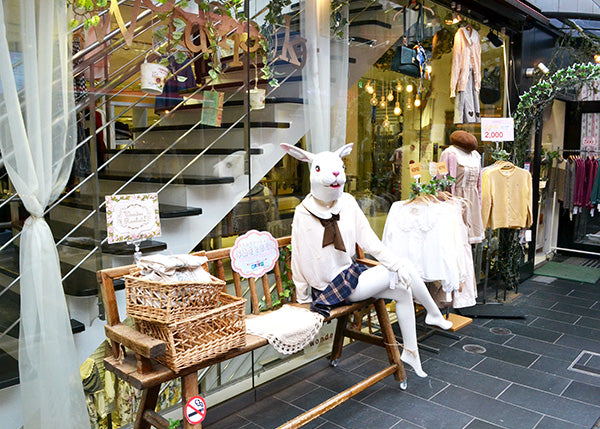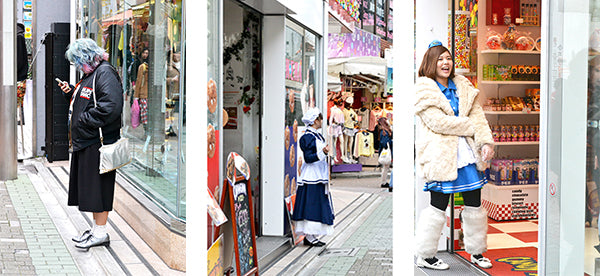 Someone once told me that whatever else Japanese fashion is, it's always intentional. And in my brief visit around the country, I found that was truly the case. Walking down the street, you might pass one girl decked out in Prada and another girl in a sailor outfit and cat ears… they might have looked as different as night and day but you could guarantee that both had put an enormous amount of thought into what they chose to wear. Coming from a country where it's common to spend maybe ten minutes throwing on a t-shirt and shorts before heading outdoors, I totally appreciated the amount of time and effort each outfit took to put together.
Highlights of our visit to Harajuku:
Takeshita Dori (Takeshita street) – where locals and tourists alike hang out, eat and shop. There are lots of quirky boutiques selling all kinds of fashion, plus lots of cafes and restaurants. In other words, plenty to explore!
The crepe stands – every area we visited in Japan seemed to specialise in a different type of cuisine and crepes were the food of choice for locals in Harajuku. Some stands had queues all the way down the street as people lined up for their sugar fix!
Meiji Jingu – when you get to Harajuku (if you arrive by train), one of the first places you'll come across is Yoyogi Park, which is home to the Meiji Jingu shrine. This tranquil place is another one of Japan's contradictions – the paths on the way to the shrine are peaceful and calm, and yet outside the park is surrounded by busy streets, loads of shops and a sea of people. For that reason, it's a great place to draw in a deep breath or two and enjoy the serenity before heading out into the crowds.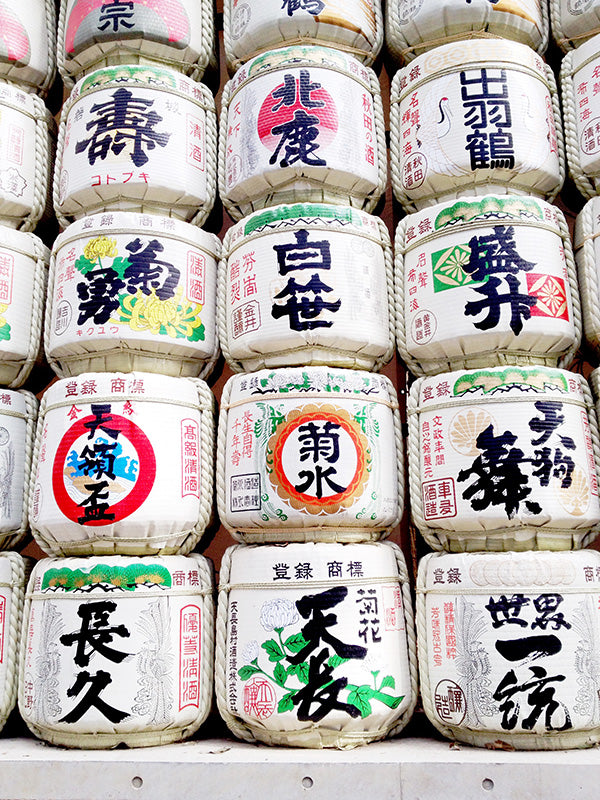 Mount Fuji
I know Mount Fuji is one of the most well-loved tourist attractions in Japan, but before I got there, I must admit I ever so slightly doubted how impressive it could be.
After all, we'd just been skiing on so many incredible peaks that one single mountain didn't seem like it could be that spectacular.
Boy was I wrong.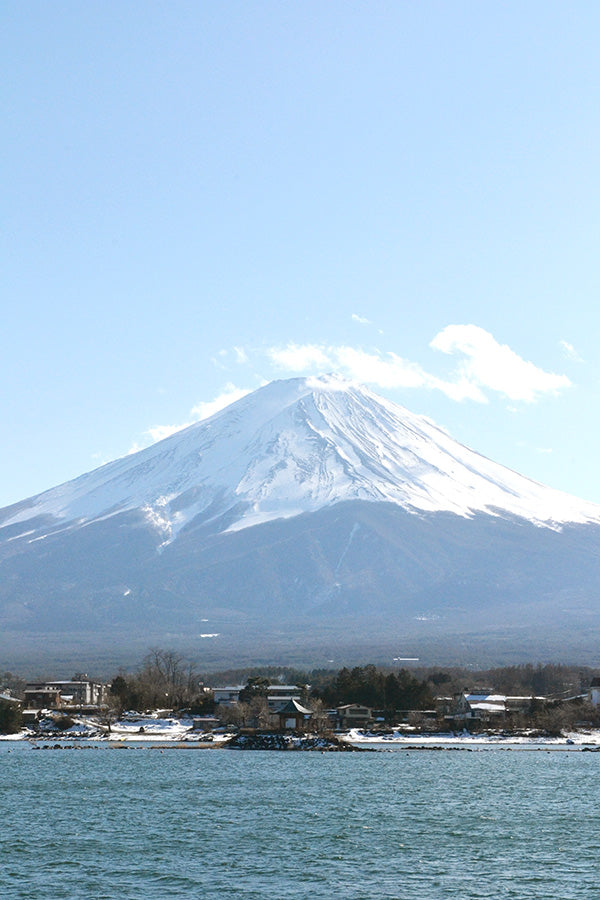 Mount Fuji was breathtaking. We decided to view the mountain from Kawaguchiko, one of the lakes in the area. And from the moment we got to the train station the mountain put on a show, looming overhead as we walked past shops, petrol stations and restaurants to get to the lake.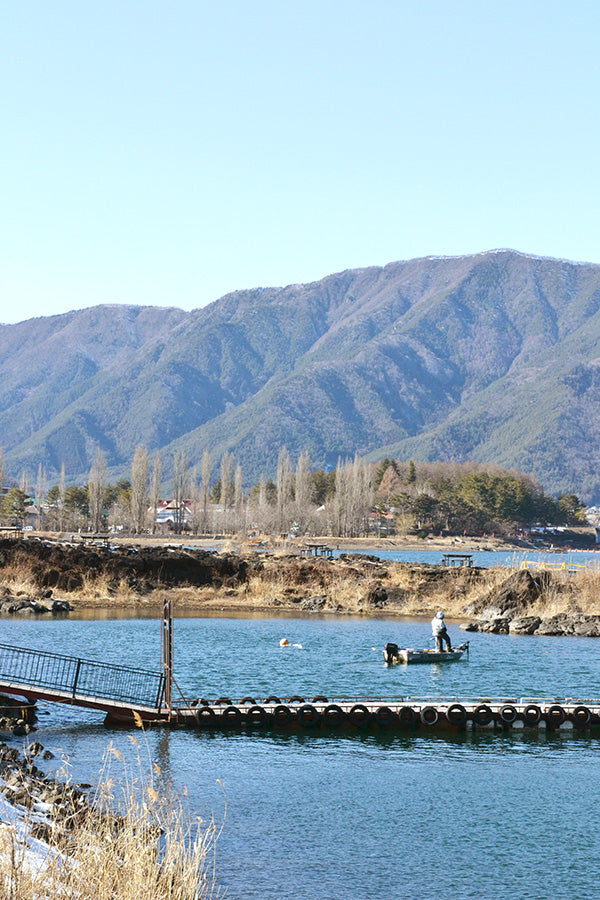 At this point we really had no idea what the lake was going to be like and whether the view from there was going to be any better than what we could already see from the station – we were trusting very much in the power of the internet and our guide book to lead the way.
And the verdict? The guide book didn't lie – if Mount Fuji looked beautiful from the train station, it was infinitely more stunning when we were out on a boat in the middle of Kawaguchiko lake. Just imagine being ferried across deep blue water, the wind in your hair and birds wheeling through the sky as you stare at a snow-capped peak that grazes the clouds. The experience may have been short (the boat ride was maybe 20 minutes), but it was as pretty as a picture.
Fair warning though – if you're staying in Tokyo and plan to head to Mount Fuji for a day trip, be prepared to spend a bit of time travelling. It takes between 1.5 to 2.5 hours to get to the Five Lakes region depending on whether you take the express train or bus (and it took us even longer to get back because we hit peak hour traffic!) .
Koenji
Koenji was one of my favourite finds, I think in part because it was so unexpected. Although this area was also in our guide book, we hadn't really made any plans to visit, especially as it was a bit removed from the centre of Tokyo. But after hearing all about Tokyo's famous thrift shops from our friends, we decided to stop over and boy am I glad we did.
What set Koenji apart wasn't so much the amount of thrift stores, but the type of stores it boasted. The shops catered for many different (and some very specific) tastes – a few specialised in lolita goth fashion, others were purely rastafarian and my favourites were the little boutiques that looked like I'd walked straight into a teenage girl's bedroom in the 1980s.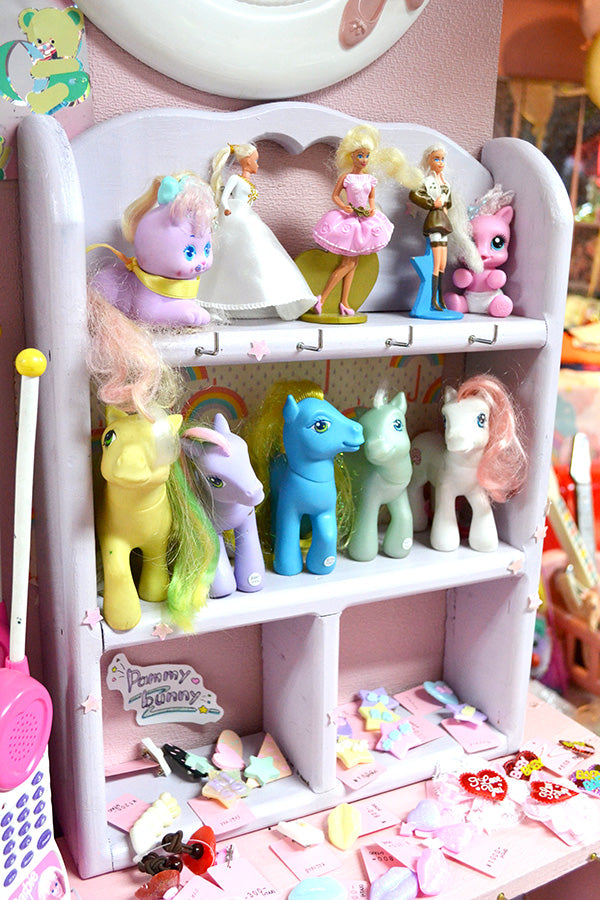 Yep, I swear it's true… think walls of pink, a disco ball hanging from the ceiling, stickers everywhere, hamburger phones, shelves decked out with Barbies and walls covered in posters of David Bowie, Michael Jackson and Madonna. Best of all, in amongst the flouncy dresses and jewelled shoes much loved by Japanese locals stood racks of clothing straight from the 80s. I came across items I hadn't seen in decades like neon geometric Reebok jackets, stonewashed denim overalls, brightly patterned knits, even shoulder pads!
Of all these little thrift stores, Spank was by far my favourite – it's a must-see if you find yourself in Koenji.
Oh and did I mention that I managed to find a cat store here too? Win! There were cat-themed items everywhere… cat mugs, cat dishes, cat guitars, cat statues, cat wall art. Occasionally creepy, but mostly crazy good. 🙂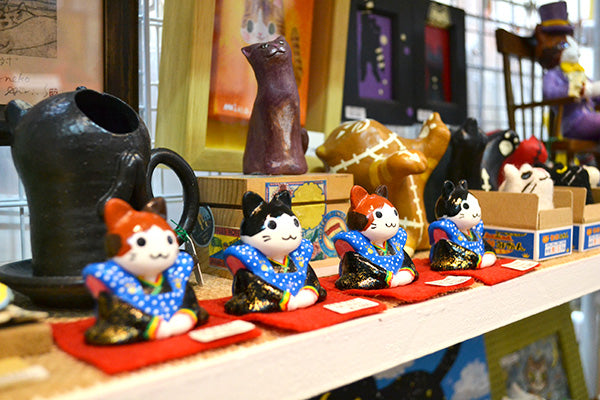 And that pretty much sums up our whirlwind tour of Tokyo! The only part that I regret about our stay in this incredible city is that we just didn't have enough time to fit more in. Which I guess just means we'll have to come back. Maybe next year? 🙂
SKIING IN NAGANO
After leaving Tokyo, we made our way to Nagano, all the while not really being sure what to expect. We'd fallen so in love with the snow in Sapporo that we couldn't imagine anything beating that kind of experience and yet we had our fingers crossed that we'd once again be blown away.
It turned out that (at least while we were there), the powder wasn't as nearly as good as in Sapporo, even though it snowed quite a bit during our stay. The snow was sometimes icy in some parts, which made skiing a little less enjoyable.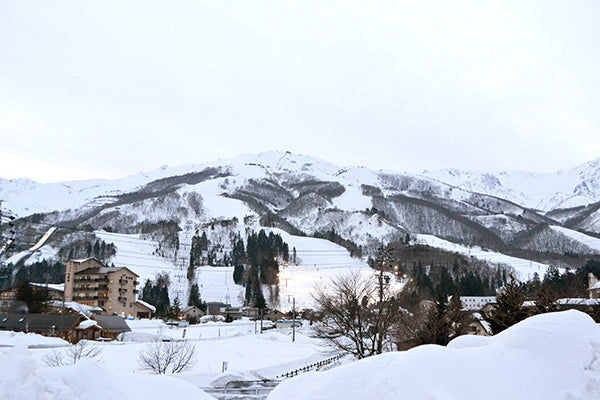 But (there's always a but!), there were so many other ways that Nagano impressed us.
Firstly, the ski resorts were larger than the ones we saw in up north, especially the one we visited last (Happo One) which was like a big playground. There were so many runs that we were hard pressed to cover them all in a day and we just loved having all that terrain to explore!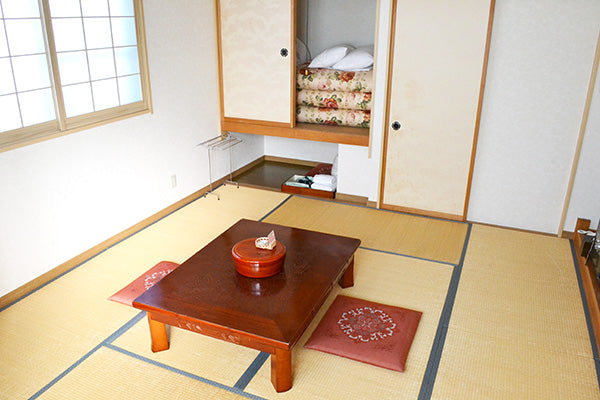 Also, Nagano happened to be where we got to stay in a traditional Japanese style hotel (ryoken) for the first time. Guys, I was so excited. It was just as I'd imagined – we walked through the doors and were greeted by tatami mats, Japanese sweets, futons in the cupboard and a spa (onsen) on the fifth floor!
Oh, and the best bit was that we got treated to a traditional Japanese breakfast every morning. Would you just check out that spread? I'd never seen so many dishes on the one table and that was just for a single meal!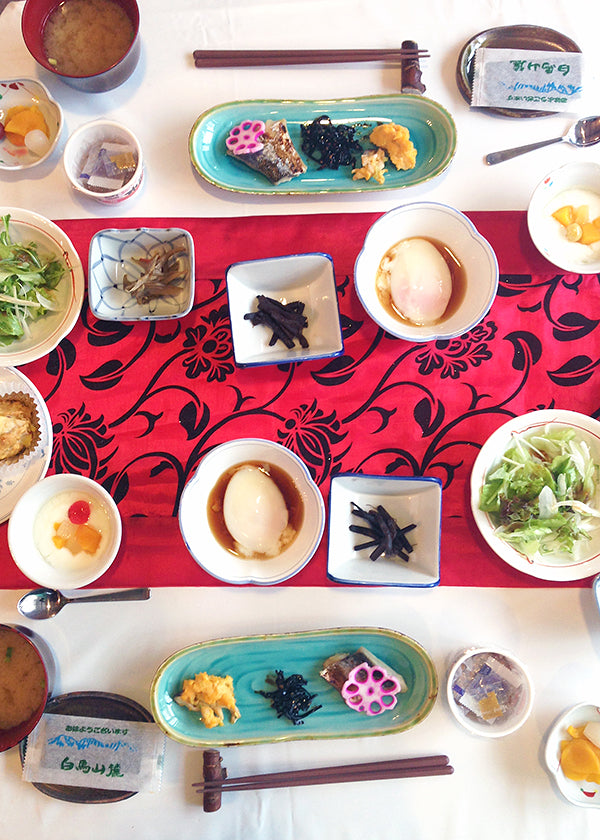 Unlike in Sapporo where our accommodation was in the centre of the city, in Nagano we stayed close to the ski fields and that meant our surroundings were much quieter. There were only a few shops and restaurants within walking distance, and not a lot at all in the way of night life.
Which ended up being okay – by this stage of our trip I was quite tired and more than happy just to crash in the hotel or relax in the spa after a hard day's skiing. But I think I might have felt differently if this had been the first or second place we visited on our trip. Have you been to Nagano before? If so, what are your thoughts on staying near the ski fields versus in the heart of the city? Leave me a note in the comments below – I'd love to know!
A BRIEF STOP IN OSAKA
Before we left to return to Sydney (sob), we stayed in Osaka for a night. We'd also paid the city a brief visit a little earlier while we were in Kyoto.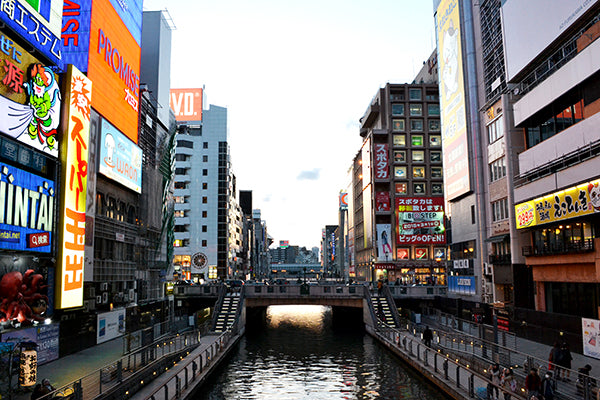 Highlights of our visit to Osaka:
Shinsaibashi – just a little walk from Namba station, this area it rivalled Tokyo with it's amazing array of stores, bustling crowds and wonderful restaurants. You truly won't believe how long the main street of shops stretches – just to give you an idea, we walked for about 20 minutes in one direction and still didn't reach the end!
Street food (namely takoyaki) – while you're making your way past the endless number of restaurants in Osaka, you might find yourself drawn to the many stalls selling little balls of dough filled with octopus. In fact, you can't miss them – if it's not the long queues that catch your eye, it'll be the heavenly scent wafting through the air or the music that sings of the joys of takoyaki to the tune of the Hallelujah chorus! These tasty seafood treats are one of the specialities of Osaka and are definitely worth a try.
The HEP5 shopping centre. Right outside Osaka station, you'll come across a large shopping centre called HEP5. The shops are in and of themselves a great way to pass the time, but what really drove me to visit this place was the massive ferris wheel on top of the building. If you hop on for a ride, you'll get to view the whole city in all it's glory, which is pretty spectacular.
Osaka Castle. I know, I know, yet another castle. But I promise this one is quite impressive to behold, especially the main tower! From the top there's another incredible view of the whole city and inside you'll get treated to the story of the castle and the warlord Toyotomi Hideyoshi who built it.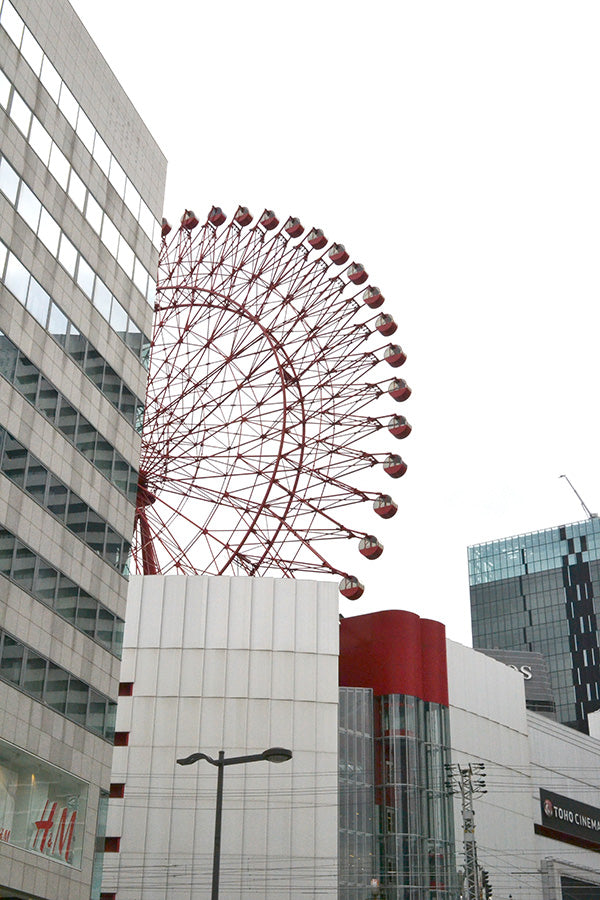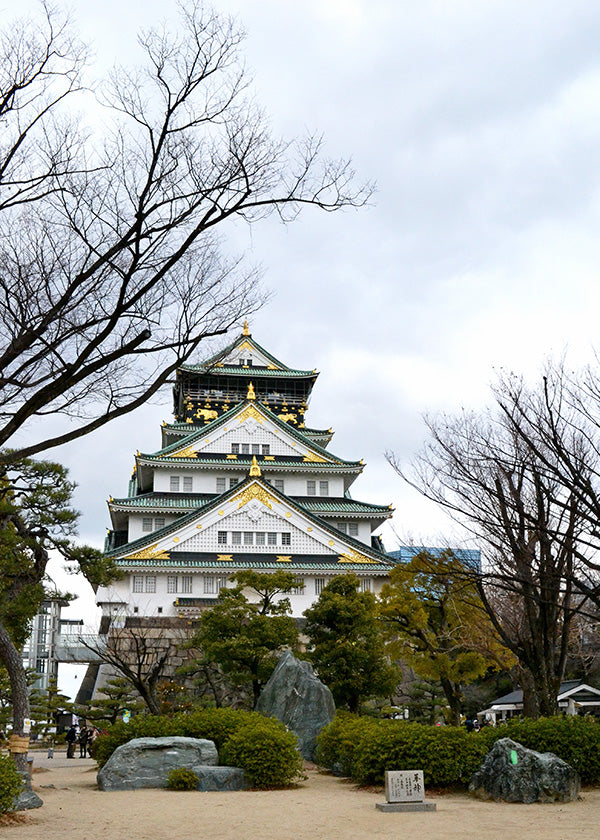 And that's our trip to Japan all wrapped up in three epically long posts! I hope it hasn't been too drawn out for you guys – it was so hard to pack all the amazing sights we saw into just a few blog posts and even though I wrote so much, I still don't feel like I did this incredible country justice.
If you have any questions or want some more tips on getting around in Japan, leave me a note in the comments. I could talk about this place forever so you can bet I'll be right on board to share my many tales – just try to stop me! 😉
xx Steph