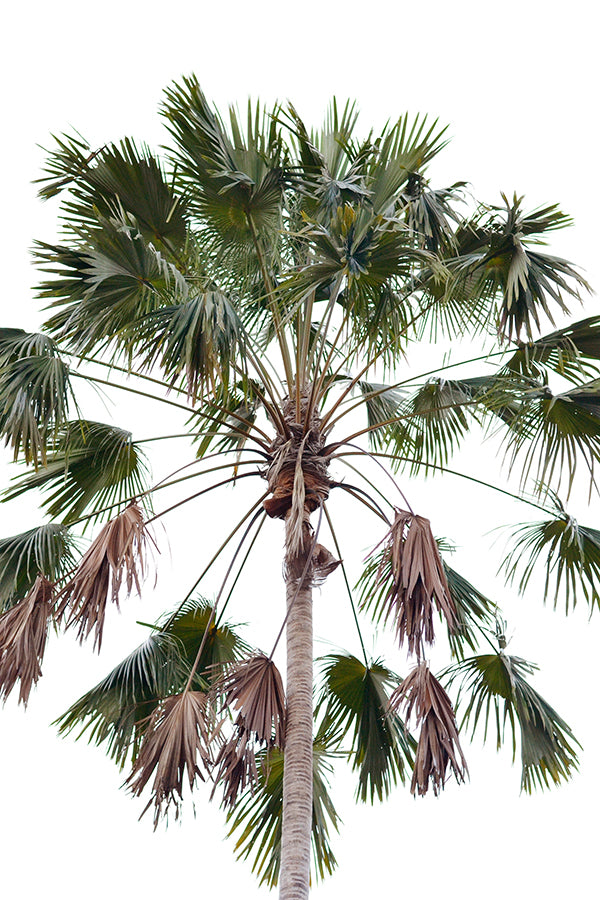 If you've been following along on Instagram, you would have seen me post pictures of our trip to Bali last week. I think I've also been mentioning it in every post while I was away and every post since getting back. Am I obnoxiously rubbing it in? Probably (sorry!). Am I obsessed? Totally.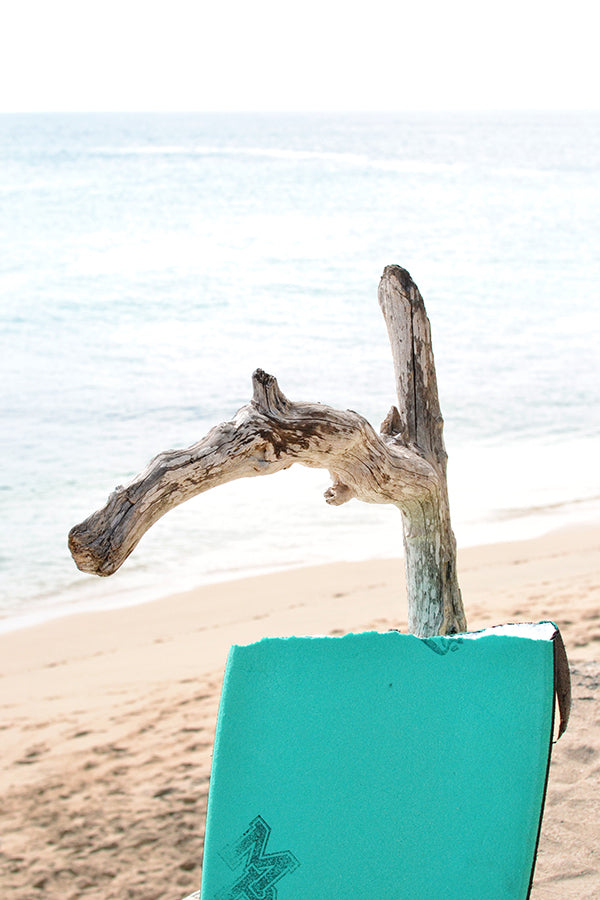 I've been to Bali once before and while I loved my stay the first time around, it was a girls' trip, filled with shopping, eating and pampering, all in the one spot. Which was HEAVENLY, don't get me wrong. But this time, we ventured out a bit and stayed at two places, Ubud and Seminyak. I saw a little more of the island on this trip and as a result I fell in love with Bali even more so than I had already.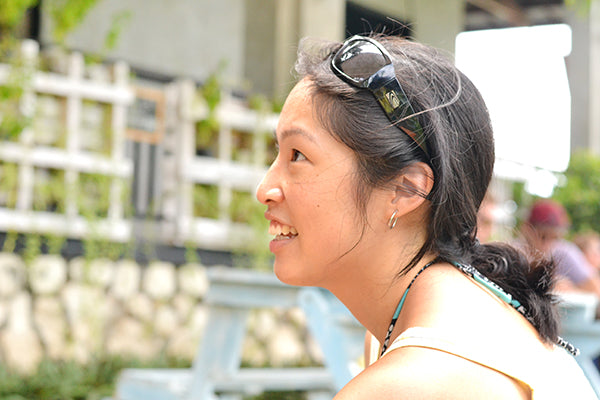 TO DO IN BALI: 
Hit the beach (duh!): If you're visiting Seminyak like we did, don't stay pool-side – you definitely must head to the beach. When we were there, temperatures reached over 35 degrees so take lots of sunblock and make sure you stay in the shade at the hottest parts of the day to avoid getting majorly sunburnt (I'm starting to sound like my mother). Also, be prepared for warm, super salty water – the surf in Bali is quite different to the chilly Sydney waves I'm used to!
It's good to remember that the beach is an industry here, so don't be surprised if you're often approached to buy wares from vendors like art, kites, jewellery and sunglasses. If you want to use an umbrella and deck chair, you'll have to pay to hire them. Or alternatively you can hit one of the many beach clubs along the coast like Ku De Ta or Potato Head for cocktails and a sun lounger.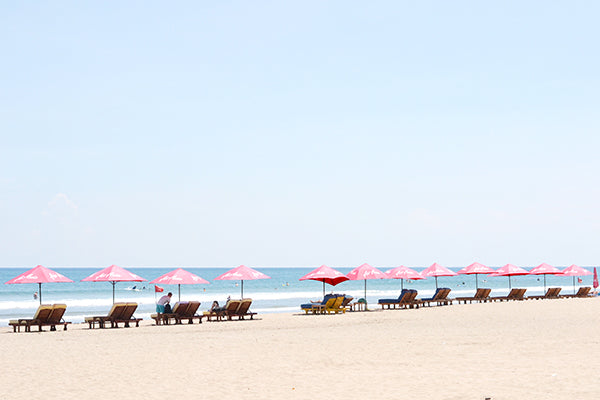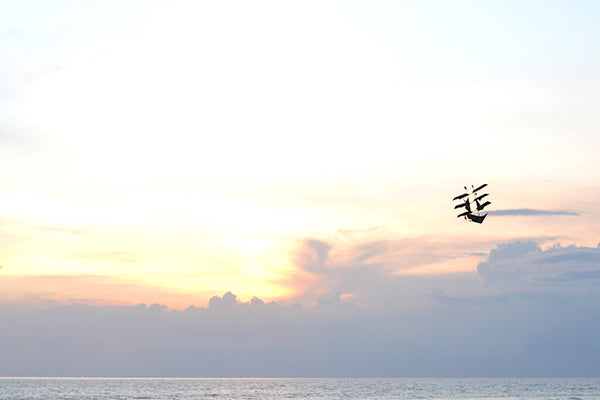 Watch the sunset: Unlike the beaches where I live, which are all on the east coast, Seminyak is west-facing and has the most brilliantly beautiful sunsets. If you're a budding photographer, take your SLR and as evening arrives you'll be rewarded with the loveliest pink and orange hues.
Pamper yourself: It probably goes without saying that everything is super cheap in Bali, but nowhere is that more applicable than when you're in the mood for a little pampering. If you pick the right place, you can spend the better part of a day at a spa without breaking the bank. (for example, my husband Fred and I both got full body massages, he got a foot massage and I got a pedicure… we were there for 2 hours and we spent only $17 AUD each!).
Ride a scooter: Fred has a motorbike license so he insisted we hire a scooter while we were in Bali to get around easier. Best. Decision. Ever.
It was one of the most freeing experiences – for around $6 AUD per day, we had a moped all to ourselves to explore the surrounds as we pleased. We found lots of little nooks and watering holes that we probably wouldn't have stopped at if we'd been in a taxi, and just being amongst locals and tourists alike on the roads was heaps of fun.
Be warned though, Bali traffic is not for the faint hearted. Riders (and drivers) will pull out right in front of you, weave in and out of lanes (or drive in the middle of two lanes), head the wrong way and carry all sorts of crazy things on the back of their rides. The good thing though is that people aren't usually going very fast and for the most part we found this disorganised traffic system works. My friend likened it to swimming with a school of fish that move in and out to accommodate your movements; people might be everywhere, but they're also very aware of the presence of others and most of the time, react accordingly.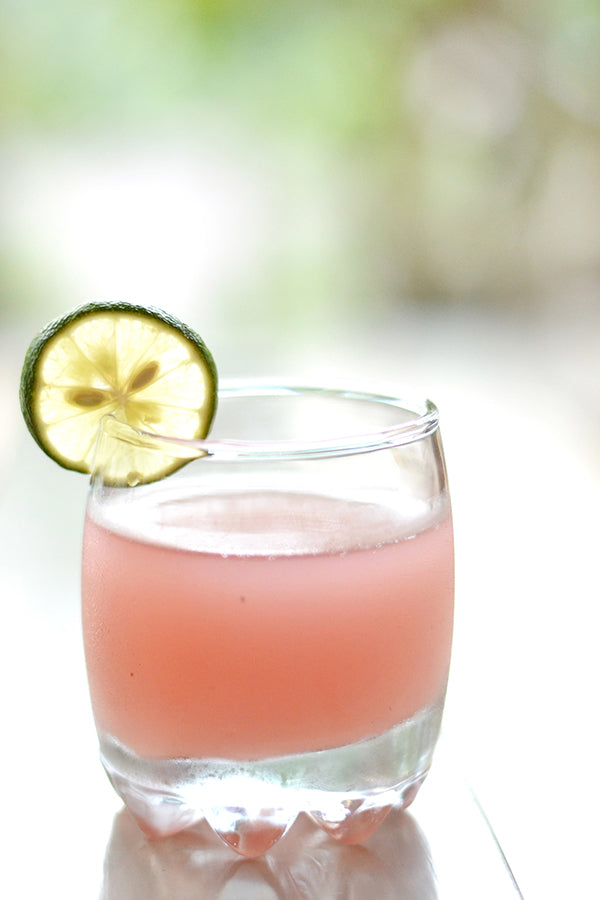 Eat and drink all the things: Okay yeah, that's a given, but truly Bali has so many amazing restaurants that you'll never be without something delicious to eat. My favourite new discoveries from this trip were Sisterfields (INCREDIBLE brunch) and Revolver (to-die-for coffee). We also revisited Ultimo, an old favourite Italian restaurant that was just as wonderful as I remembered, and Fred got hooked on the fun and food at Cloud 9.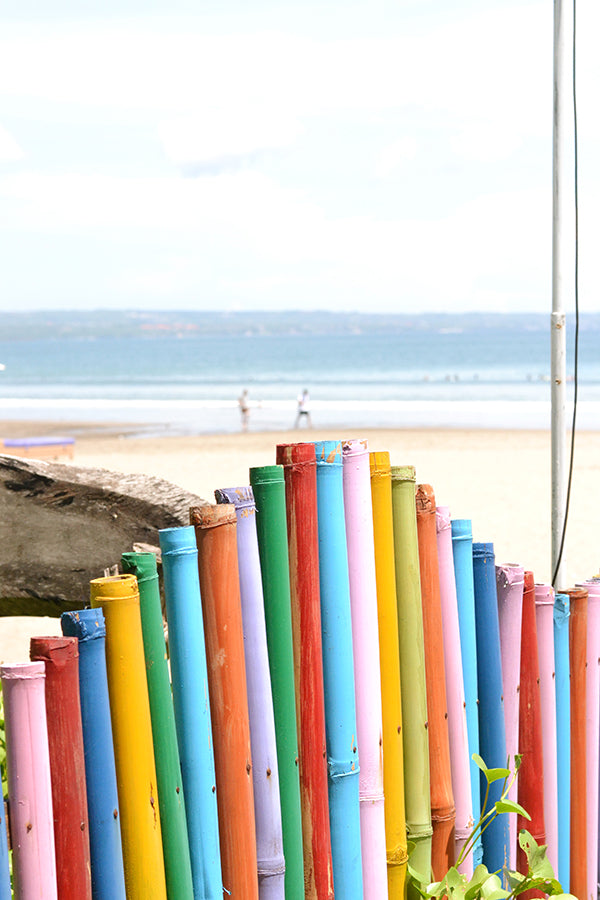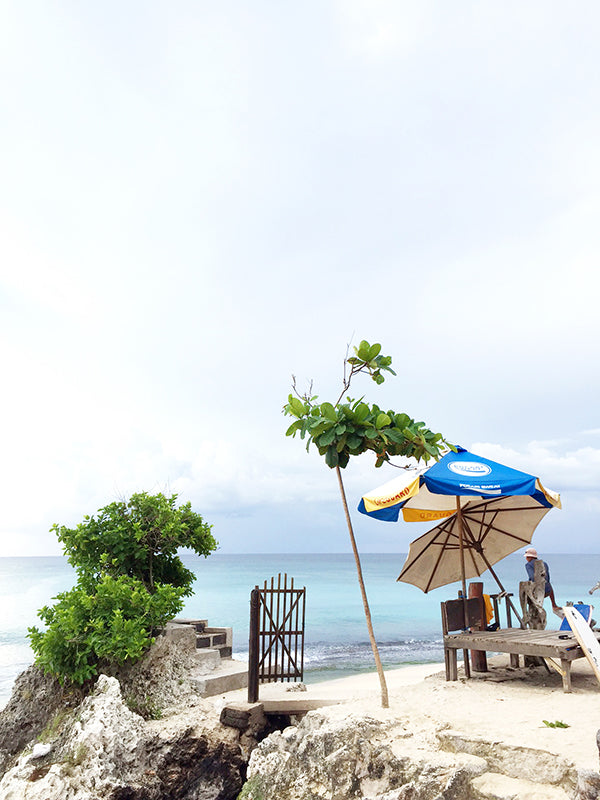 WHERE WE VISITED:
The monkey forest in Ubud: I've been to the monkey forest once before and just like last time, the whole place is constantly buzzing with visitors and monkeys everywhere. It's a fun way to spend a morning and the rock carvings, temples and jungle surrounds are beautiful. Just be careful around the monkeys because they can be aggressive and do occasionally bite!
Tegallalang rice terraces in Ubud: If you're heading to Ubud, there are a couple of destinations that are at the top of most tourists' 'must-see' lists and the rice paddies are one of them. I saw the terraces for the first time on this trip and they were stunningly pretty, fun to explore and definitely worth the 20 minute drive.
Dreamland beach in Pecatu: We stopped at Dreamland beach on the way down from Ubud in the hopes of visiting the much loved El Kabron Cliff Club. Sadly, a lot of the roads around the Cliff Club were under construction and we couldn't find our way there (I'm still not sure whether that was a fail on our part or if it was completely inaccessible). So we found ourselves at Dreamland beach instead!
The beach itself was lovely, the water super warm and a beautiful aqua blue. But if you do end up visiting here (at least over the next month or so while the place continues to be built), be prepared for the surrounds to be less than perfect – towards the road that leads to the beach, there was construction debris, large pools of stagnant water and many large piles of trash… you'll also find several roads closed off for maintenance.
Uluwatu Temple in Pecatu: On hearing that there was a cliffside temple nearby, I was super eager to go check it out. After all, it sounds incredible right? Evidently I wasn't the only one who thought so – if you do end up visiting Uluwatu at some point during your stay in Bali be prepared for hoards of tourists! It's well worth the visit though, the views are spectacular and for an extra $10 AUD you can buy a ticket to the dramatic evening Kecak dance which tells the story of Rama, his bride Sita and her abduction by the demon king Ravana.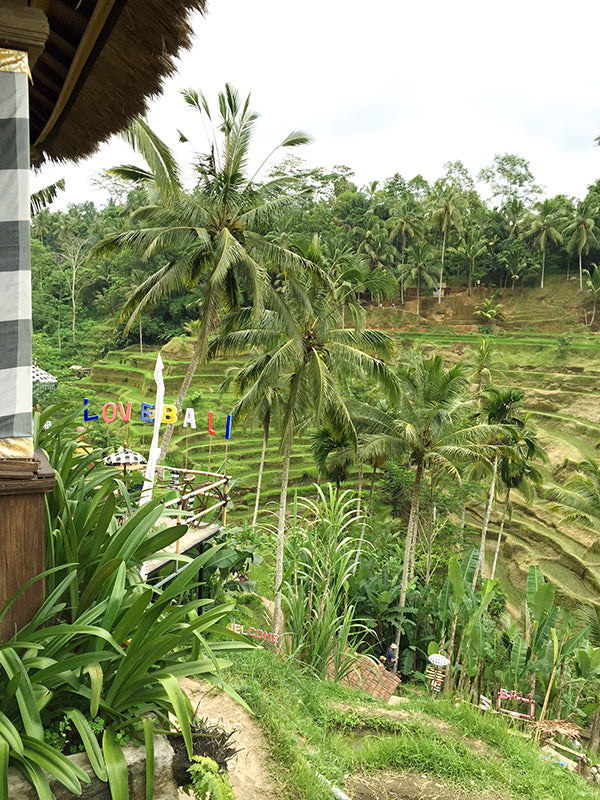 WHERE WE STAYED:
I can't take any credit for choosing where we stayed – I'm very fortunate to have some super awesome traveller friends who pretty much arrange my holidays for me (jealous? I know you are!). Despite not having chosen them though (or maybe because of that haha), the places we ended up at were perfect.
In Ubud we stayed at Hotel Tjampuhan Spa and it was like visiting a jungle wonderland. The hotel is surrounded by trees and wildlife – at the spa you'll be massaged on a bed that overlooks a flowing creek, there are intricate rock carvings in all the walls, butterflies flutter past as you walk down the garden path and while I lay floating in the pool one day I looked up and saw squirrels in the trees!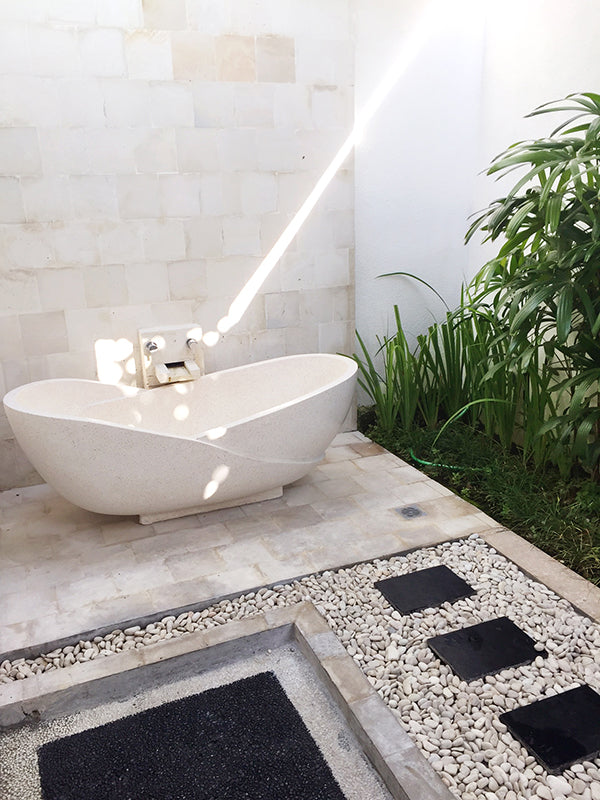 I didn't think that anywhere we stayed in Seminyak could beat our accommodation in Ubud. And then we arrived at Jas Green Villas and our glee turned us into little kids. Our 2 bedroom villa had a private plunge pool right in the centre of the space that connected the two rooms and I kid you not – one afternoon we spent 6 hours splashing about in the pool like we were ten again!
The layout of the villa was just beautiful and I was intrigued by the connection between indoors and out; the living/dining area didn't have walls but instead opened out onto to the pool, and the bathroom had a cut-out roof above the plants to give them access to rain and fresh air. This is going to sound strange but that stunning bathroom was by far my favourite part of our accommodation!
The breakfasts at this hotel left a lot to be desired, but that was fine because it gave us a chance to try out all the fabulous cafes Seminyak has to offer. 😉
And that pretty much wraps up our week in Bali. I only wish we could have stayed longer! If you've been to visit before, leave me a note below – I'd love to know how your found your time there!
xx Steph