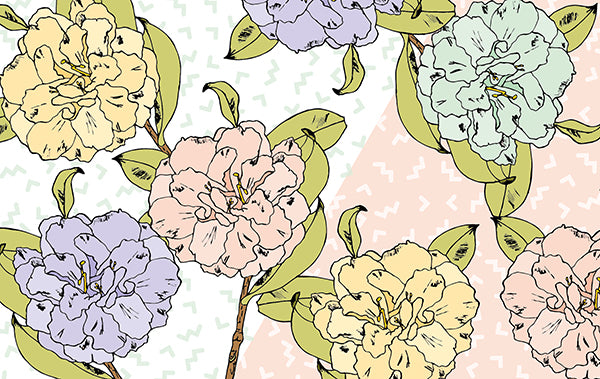 It's official, winter is here. Well it is as far as I'm concerned anyway; the temperature at night has reached single digits and in a house like mine without central heating that's about as much cold as I'm willing to tolerate!
So I've been keeping myself warm by huddling beside our oil heater, drinking tea and thinking warm thoughts. I feel like if I daydream hard enough about sipping a cocktail in the summer sun, those thoughts might become real (haha dream on, right?). And perhaps wishingfully thinking about all things Spring might make the next season come around a little sooner too!
And that, my friends, is pretty much how this desktop wallpaper came about. Dreaming about flowers got me sketching flowers and before I knew it, I had all sorts of pastel blooms floating around my screen.
If you're a flower fan, you won't want to miss out on this one, it's just crammed full of petals! And lots of pastel colours too, because I can't seem to get enough of those lately. See below to help yourself to a screenful of floral prettiness and if you're in the midst of winter like we are over here, don't forget to think warm thoughts! 🙂

Widescreen pastel flower wallpaper (1900px wide)
iPad pastel flower wallpaper (2400px wide)
xx Steph