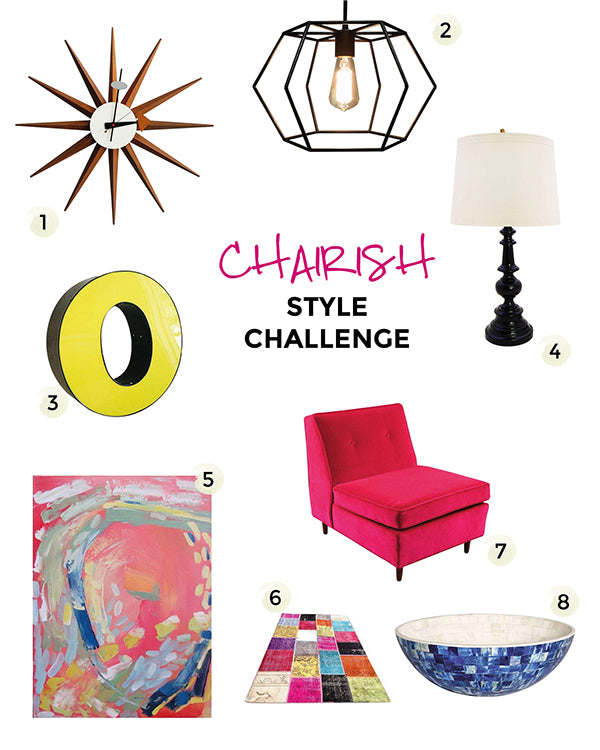 I'm not sure if I've mentioned this to you before, but my home office needs a major makeover. At the moment there's barely space to work; craft supplies are strewn everywhere, cables and boxes are all over the floor, broken electronics lie around in need of repair, and my carefully sourced wall art sits on a table waiting to be hung. Complete chaos.
So when Chairish invited me to take part in a Style Challenge, I leapt at the opportunity! The challenge was to select a few items from their latest collection and pair them with other items from their store to create a unique look for a room of my choice.
Of course the room that I chose was my home office 🙂
With the huge number of beautiful vintage pieces in the Chairish collection, finding ones that fit my style was a breeze. And these are the pieces I chose!
The item that immediately stood out for me when browsing through their latest collection was that gorgeous pink velvet chair. It's like something out of a dream and would be perfect as a reading nook in the corner of my study. With that chair as inspiration, picking other pieces to mix and match was easy, and true to form, I ended up selecting lots of decorator items with bright colours and patterns:
George Nelson Walnut Spike Clock
Brass Lamp in Midnight Blue
This was the first time I'd been introduced to Chairish and boy have I been missing out! Working on this style challenge was window shopping at it's finest, and now I have myself a pretty solid outline of what I'd like my home office to look like once I've made a dent in tidying up the mess. Anyone want to come over and help me clean and paint so I can start shopping? 😀
xx Steph