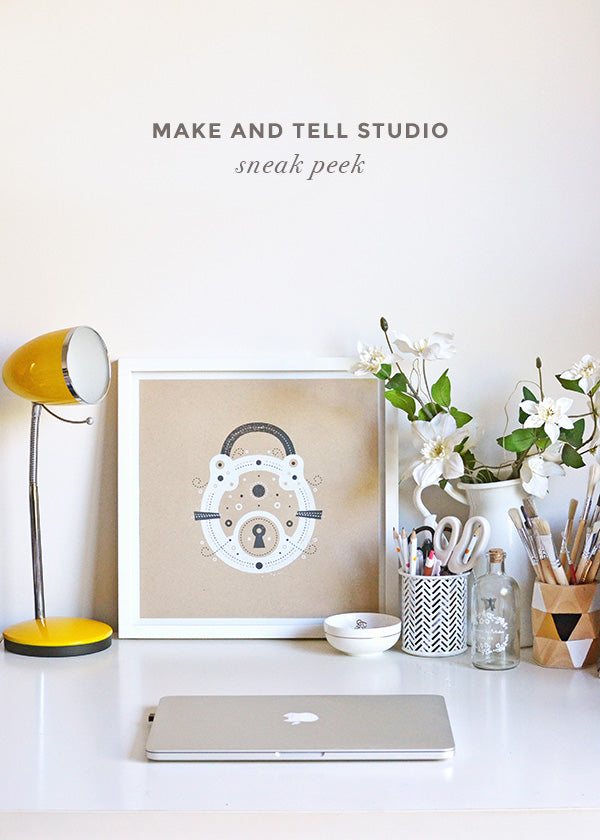 Life in blog land can be a little deceptive sometimes. If you were to judge by the photos in my posts or instagram alone, you might be persuaded into thinking I live in a haven of plants and white washed walls, when my life is actually pretty different (try not to fall over in shock). In fact, as I type this I'm sitting in my dimly lit cream-coloured bedroom, with a pile of socks at the foot of the bed and a big blue stain on the carpet. Not exactly pin-worthy hey?
While I realise nobody wants to see my laundry or stained floor, I thought it'd be nice to keep it real and show you a little of what my life is like behind the camera from time to time. And what better place to start than my studio!
I've been toying with posting about my work area for awhile, but it wasn't until I saw some of the cool spaces you can access through WeWork that I finally got my butt into gear. WeWork is a coworking company that provides shared offices spaces – and they're all simply stunning. Seeing how beautifully those studios are fitted out makes me want to share (and update) my own studio pronto. So be prepared, you may be seeing a lot of office-related DIYs on the blog in the near future!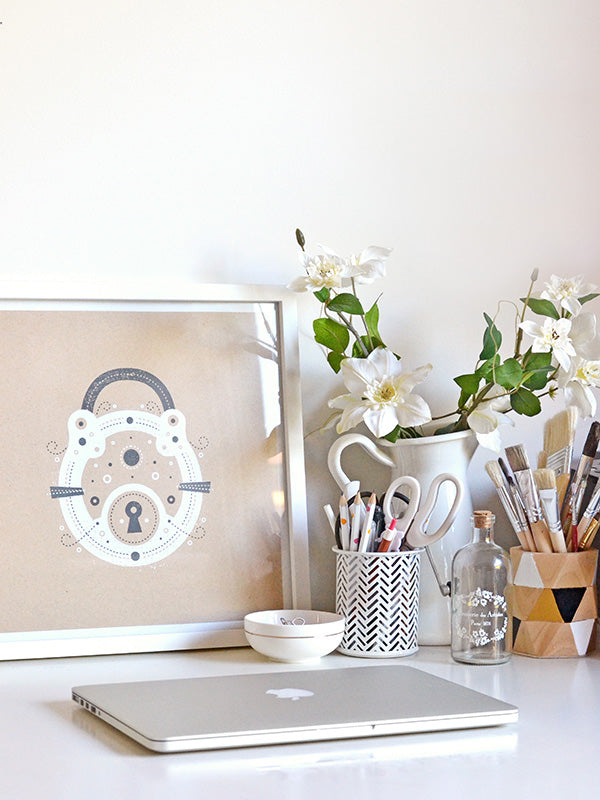 Now despite the aforementioned state of my bedroom, my house isn't all doom and gloom – in fact, I'm lucky enough to have a home office that's big, bright and airy. It's become a bit of a sanctuary for me; this sunlit space is good for the soul and I spend a lot of time here taking photos and working on DIYs. My studio is big enough to house my ever-growing number of craft supplies and still has enough space left over for my husband to have his own work area (just). 🙂
My desk is far and away my favourite part of the studio. I love how large it is; it holds my printer, artwork and stationery with ease while still leaving me room to take photos or craft. And just in case you were wondering, I use that brilliant white surface in pretty much every one of my pics – it's the perfect base for flat lays and project shots!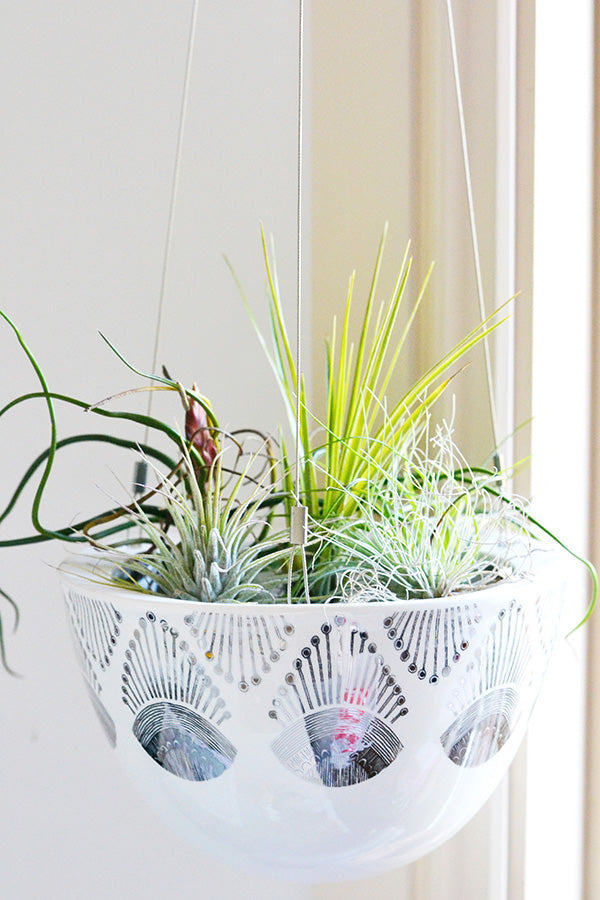 If I had to pick another much-loved part of my office it'd be my plants, hands down. Although I manage to kill staggering numbers of leafy friends on a regular basis, these pretties have been going great guns so far and I'm hoping they continue that way! The lovely pops of green in the room make me happy in the best kind of way.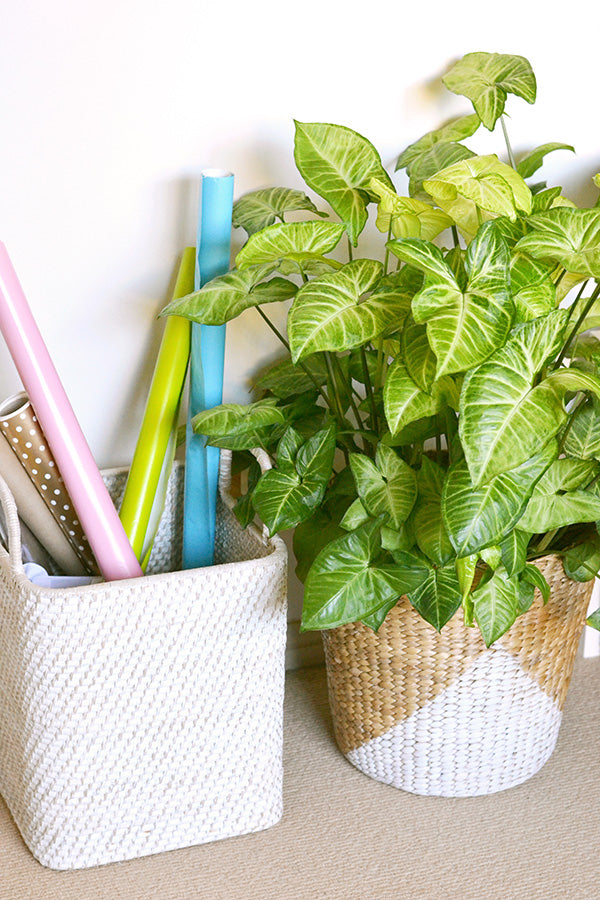 But as I've hinted before it's not a perfectly styled area; there are many things I'd love to improve on over the coming months (or years depending on how quickly I get my act together) to make this studio a dream workspace.
For starters, I'd love to replace the carpet (see shot above) with floorboards. I've also got a stack of artwork that I've been meaning to hang up to create a gallery wall plus I'd love to put some shelves up to house more art and my never ending collection of props.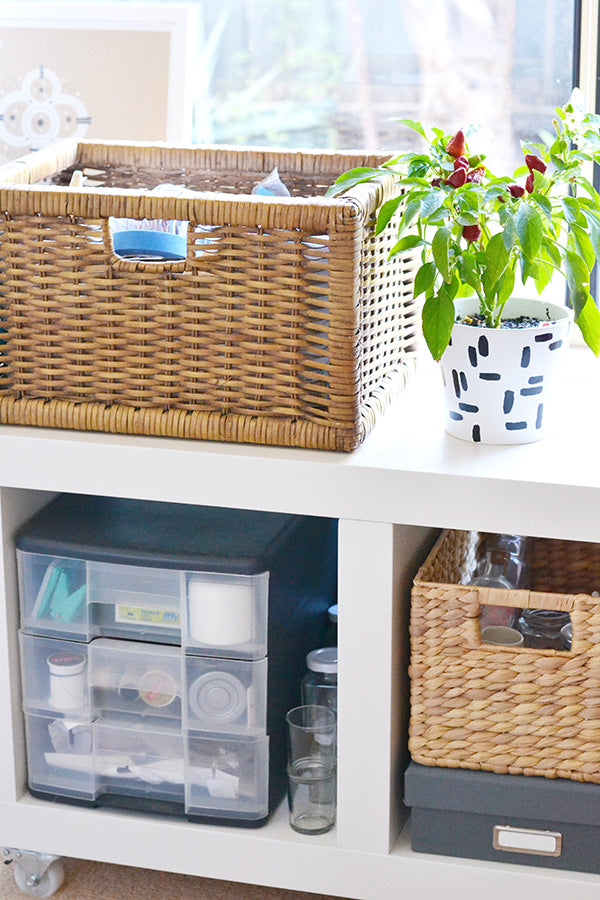 Storage is also another issue as you can clearly see – plastic drawers may serve a purpose but they certainly aren't pretty to look at. And that's not even taking into account the number of items that don't currently have a home and float about on the studio floor!
Here's some more storage that needs serious fixing. It's starting to get embarrassing now – don't say I never share anything with you guys.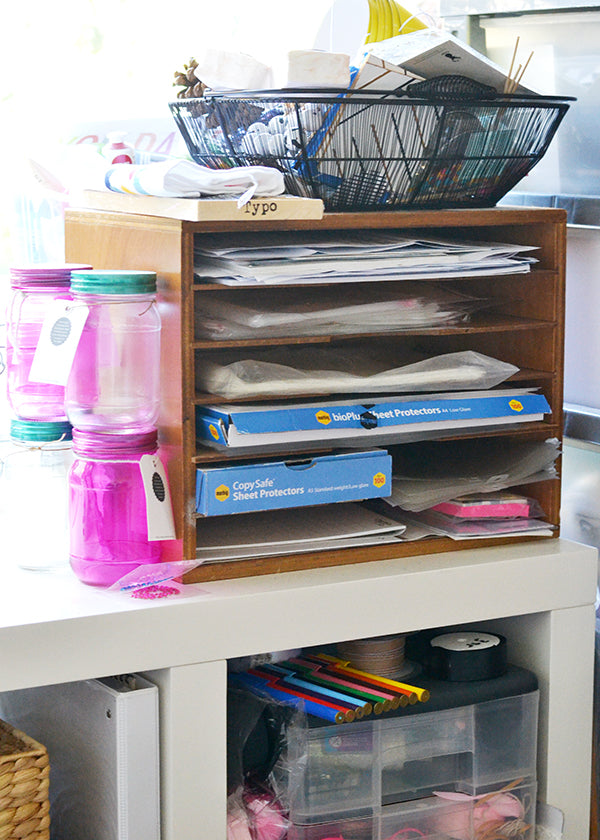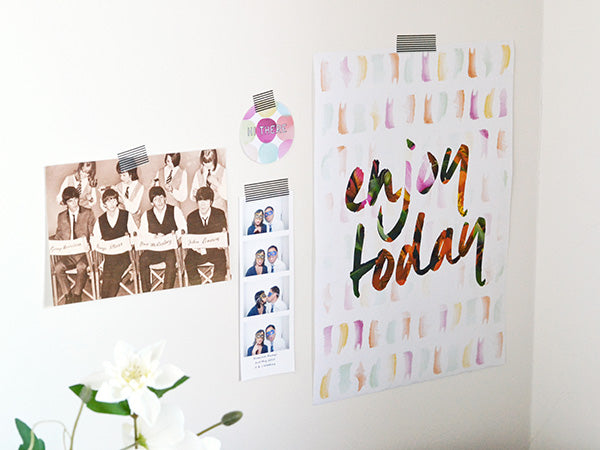 And that, my friends, is a little peek into the space where all the magic happens (ha!). It's got a way to go yet before it's my dream studio, but the amazing rooms at WeWork have gotten me inspired to start getting things into shape. I'll be sure to share all the details (and the DIYs) as they happen!
xx Steph
ps. By the way, funny story about that large basket next to the chilli plant in the fifth picture. I tried to shift it a little to the left for these photos only to realise it was stuck to the white storage unit. Argh what? It seems some glue might have leaked; I haven't yet been brave enough to fully inspect the damage. There you go folks, I'm keepin' it real. 😀