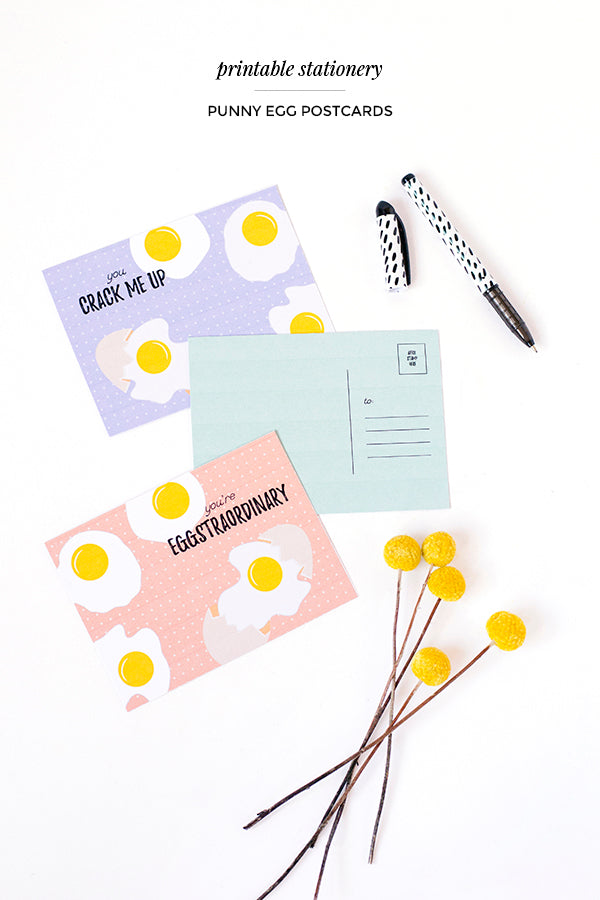 Here we are, exactly one month from my last 'Write On' post where I shared some rainbow letter paper as well as my commitment to write more snail mail. How many letters have I penned since then? Urggggh… a big, fat zero.
This month will be different though because… well okay, I don't really know how it'll be different. Let's just say my desire to fill my friends' mailboxes with fun notes remains as strong as ever and you can't get more fun than a punny postcard, which is exactly why I designed up these babies to share with you today!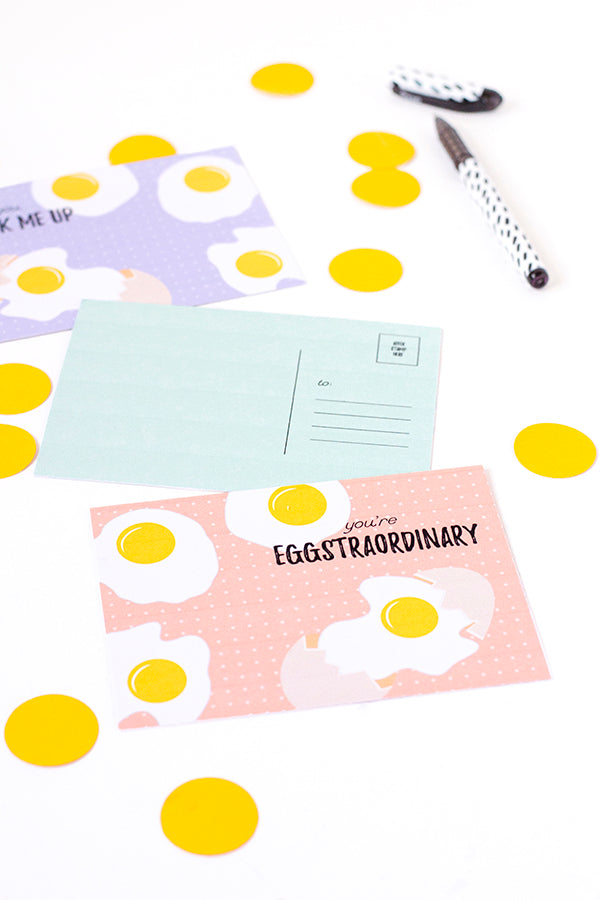 If you haven't brushed up on your pun-writing skills lately, let me just say that egg puns are the best ones to start with because there's so many eggcellent, eggstra special ones to choose from. 😉 (sorry, couldn't help myself!)
A quick note before you get started – there are two files for this month's printable stationery (see the end of this post to download). One file is for those who have a printer that can only print single sided (this file should be used with the set of instructions below).
The other file is for those with access to a good, duplex printer. If you can print double-sided, then all you need to do is cut out the postcards and fill them in! Win!
Materials
Printable egg postcards (see the end of this post to download the files)
White A4 card
Scissors
Double-sided tape, bone folder and ruler (only required if you have a single-sided printer)
Instructions for if you're using a single-sided printer
Print out the egg postcard file (see the end of this post to download), and score along the line across the middle where it says 'fold here'.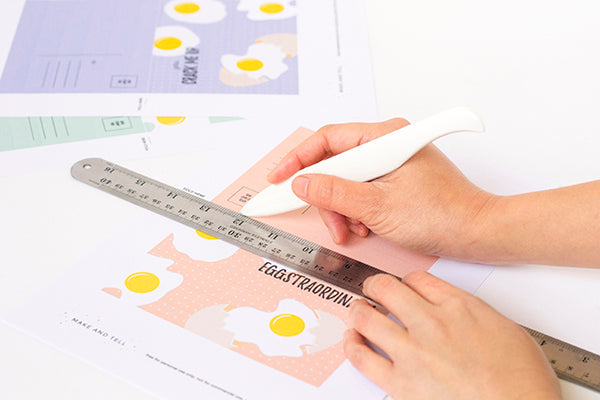 Cut out each of the postcards with a pair of scissors.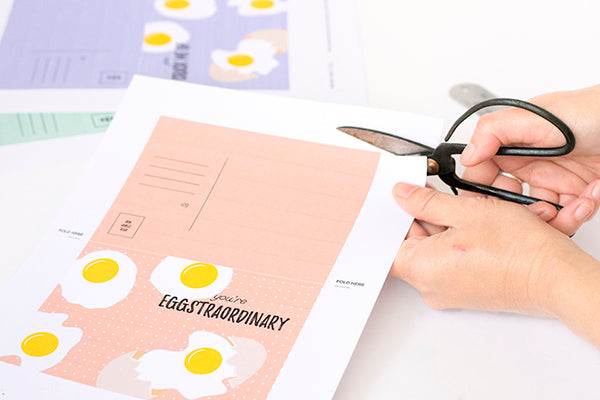 Fold down the middle of the postcard along the score line you made earlier. Then apply glue or double-sided tape to the blank side of the postcard.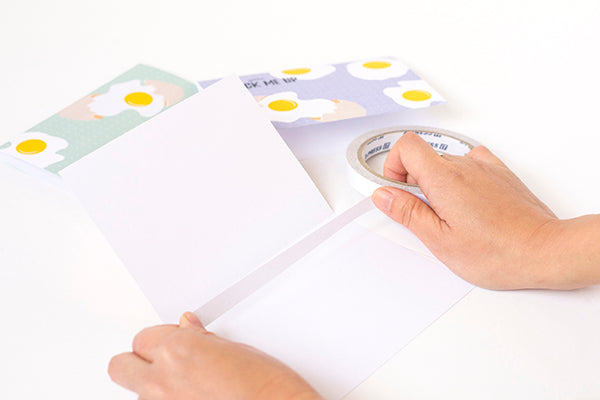 Fold the postcard in half so the back sticks to the front and you're done!
Now comes the best part – filling in the blank section on the back with your random thoughts (and we all know how many of those I have!). Once you're done writing down all your lovely notes, whack on a stamp and send the postcards to your bf, your bffs or anyone you think who could use a little happy in their mailbox!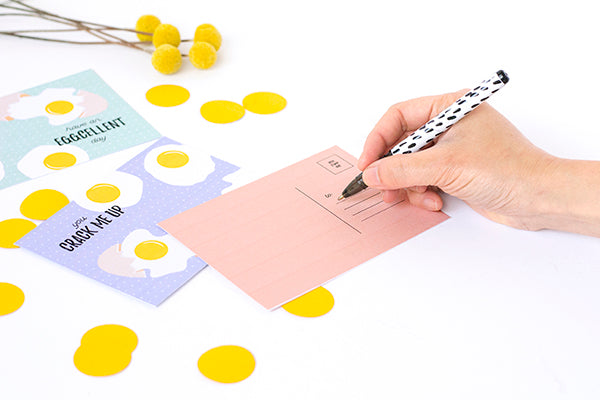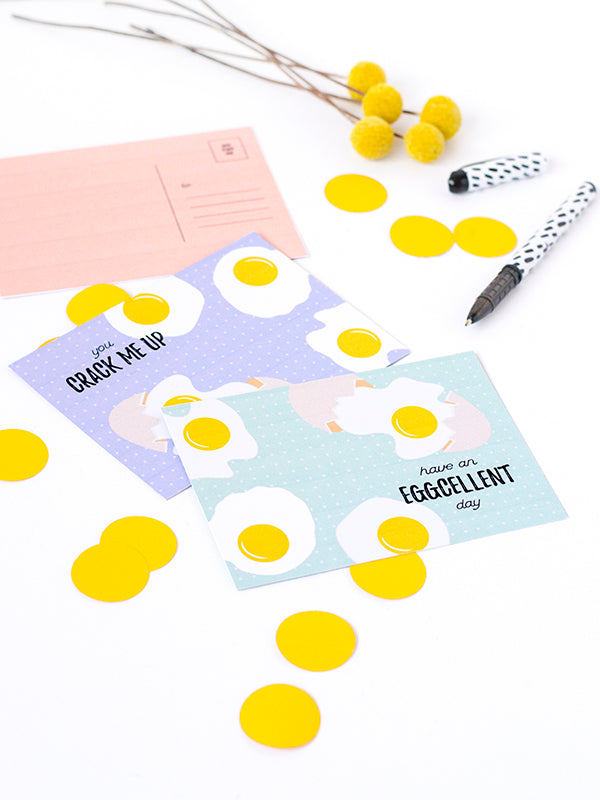 Before you go, don't forget to use the hashtag #makeandtell if you've sent any letters lately using one of my stationery printables – I'd love to see your handiwork and you'll definitely help motivate me to get my act together and up my snail mail game!

Egg pun postcards for single sided printers
Egg pun postcards for duplex printers
xx Steph