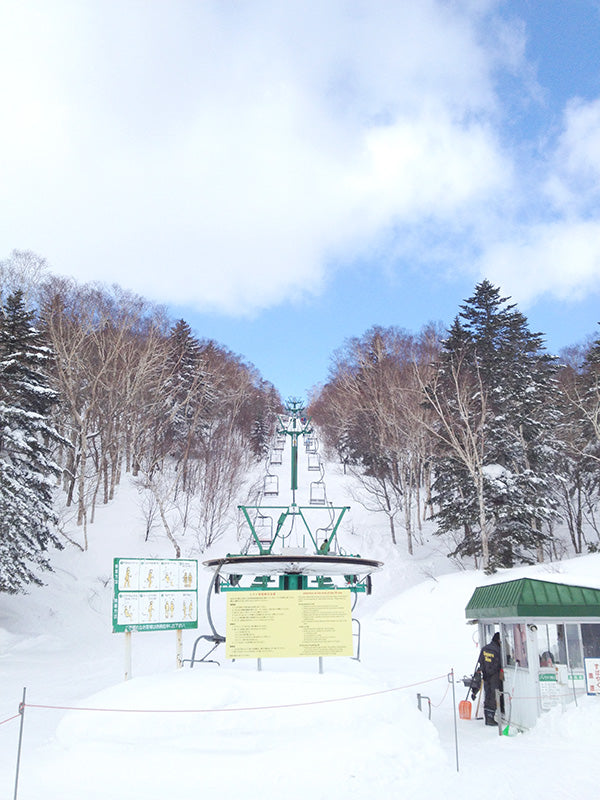 So you may have noticed 'Japan part 2' has been a little while coming and I won't lie to you, writing this one has been hard. I can't put my finger on exactly why – all I know is that I've had writer's block something fierce, maybe because I'm sad the trip is over or perhaps I'm just stressed from work.
Although I'm kind of bummed that everyday life (and everyday stress) has killed my travel high so fast, it doesn't mean that this part of our trip was in any way inferior to the first part. If anything, Japan just kept getting better as the days went on. But I'm sure that's no surprise… I've been raving way too much about this place for you expect anything else right? 🙂
For those of you who are eager to hear more of my travel tales, I'm picking up right where I left off which means leaving beautiful Kyoto and jumping on a plane to snowy Sapporo…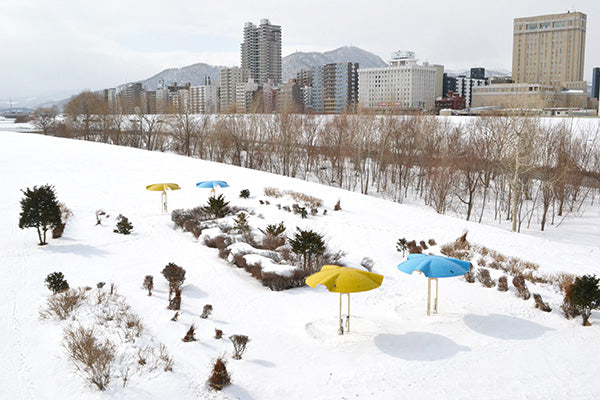 WINTER IN SAPPORO
Before we left to go overseas, friends told us over and over again that we just had to go to Sapporo. But since most of our trip was centred in Honshu, getting to Sapporo (which is in the northern island, Hokkaido) seemed too much out of the way to justify fitting it into our schedule. We only started to seriously consider adding it to our travel plans when we heard the Winter Festival would be held there, which I really wanted to see.
Why am I telling you all of this? Because oh my goodness,  if your friends tell you to go to Sapporo, listen to them.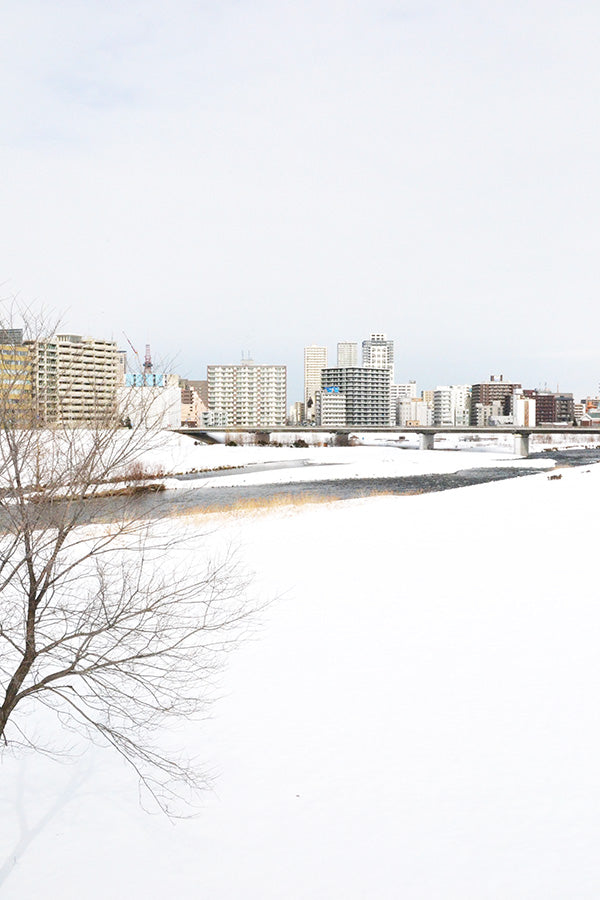 Having lived all my life in a country like Australia, I think I can safely say that up until we went to Japan, I'd only ever seen really good snow on TV. You know, the kind that you can fall into backwards, expecting at some point to touch the ground, only to find you've sunk half a metre into pure white powder and the ground is still nowhere in sight? Well Sapporo had that kind of snow in SPADES. And for this sun-tanned Aussie it was like walking into a fairytale.
We were so thrilled about the powder that we took photos of snow capped everything. Snow capped trees, snow capped houses, mountains covered in snow – I think at one point we even took a photo of an iced up sidewalk! Watching us must have been hilarious and I'm sure the locals thought we were insane, but we were too excited to notice. 🙂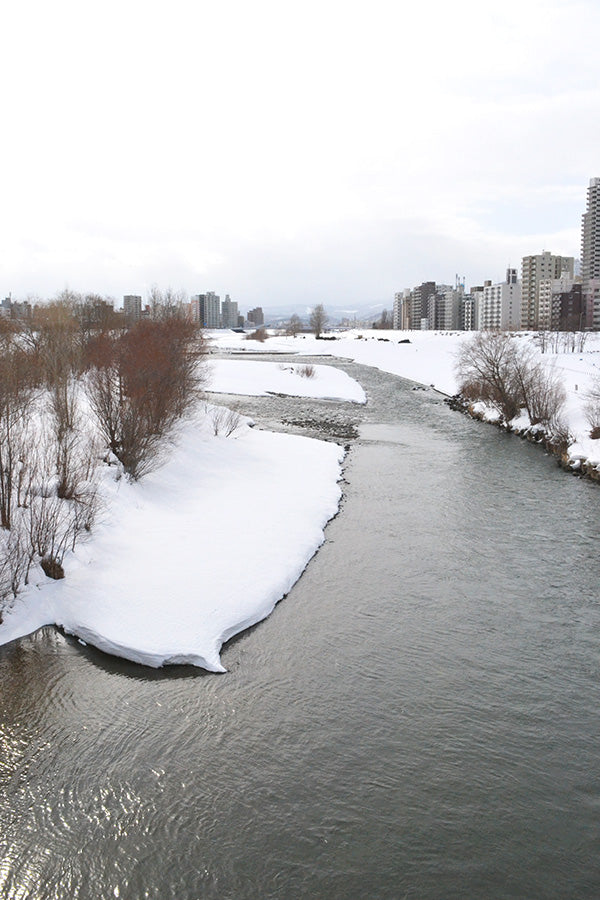 The skiing
Since the snow festival was one of the reasons we made the trip to Sapporo, we decided to stay in the heart of the city (where the festival was being held). This meant that the ski resorts we went to were those within an hour's reach of the city centre. And while I wouldn't ordinarily have planned it this way (I really wanted to stay at a villa in a ski resort!), it ended up being one of the best things we could have done.
It just so happened that quite a few of the ski fields near Sapporo city were smaller resorts that were frequented mostly by locals. This meant that our experience was a little different to kind we would have had at the larger resorts that cater more for tourists.  Just imagine… very quiet ski runs, bucket loads of powder, sub-zero temps, and ramen at the top of the mountain. Yep, you heard right, ramen. We were in heaven.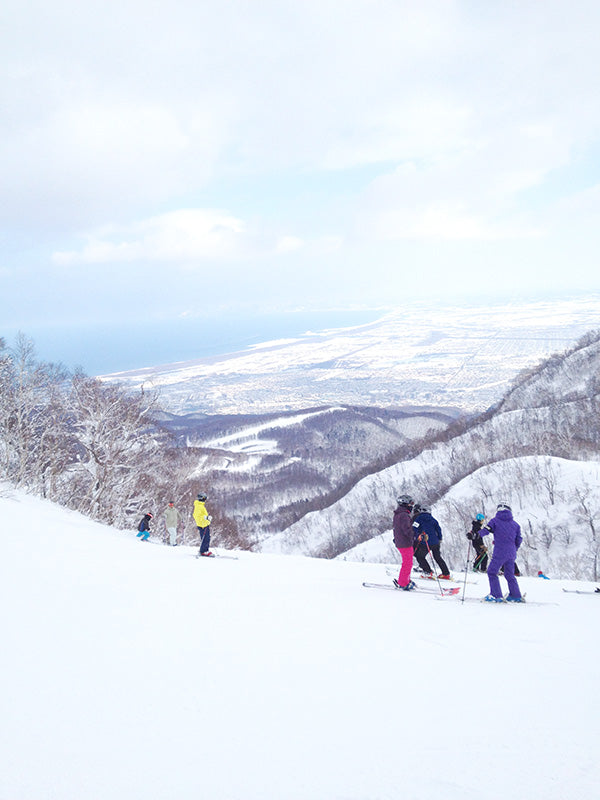 The ski fields we went to (Teine, Kosukai and Kiroro) were a little on the smaller side but they were still lots of fun and had killer views. Because of their size, we found that we could do most of the runs at each resort in one day, so it was great that we weren't tied to a single location and could instead roam around as we pleased.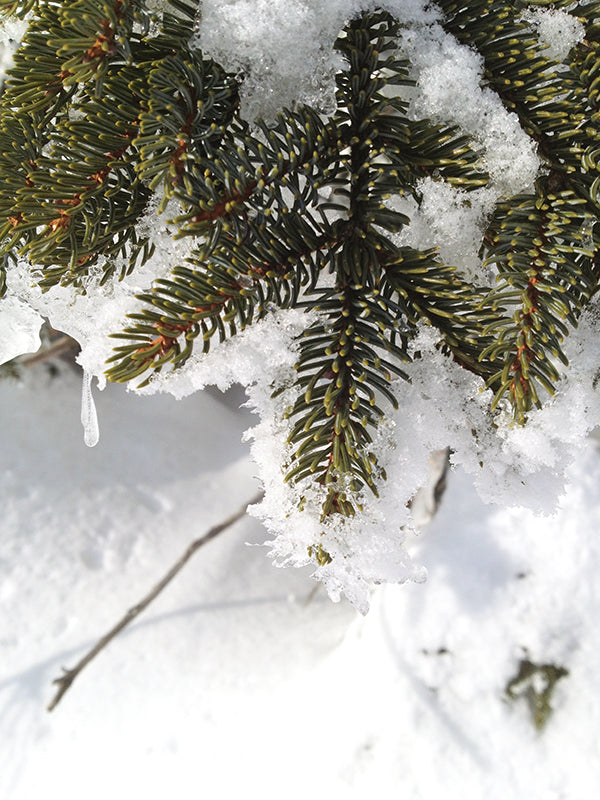 While I'm an intermediate skier at best and was easily entertained by the marked trails, my husband is more adventurous and he soon felt the need for something more challenging. We found that although the runs can be steep, they're usually very wide which makes them nice and friendly but not especially hard for pro skiers. It didn't help that the more difficult black runs were often closed because it was snowing too much or visibility was poor. But this is where the brilliant powder came into play… when my husband was done with the groomed runs he went off-piste and made his way in between trees through the oodles of snow. He had a ball!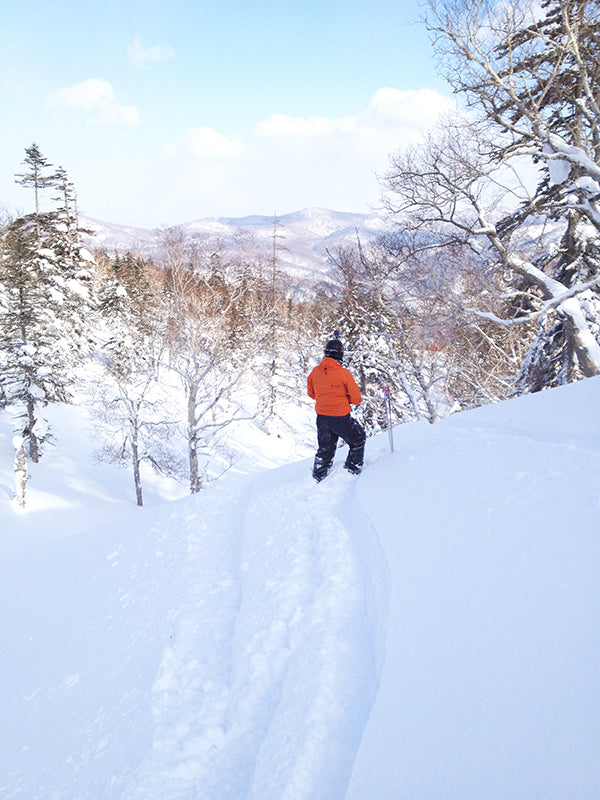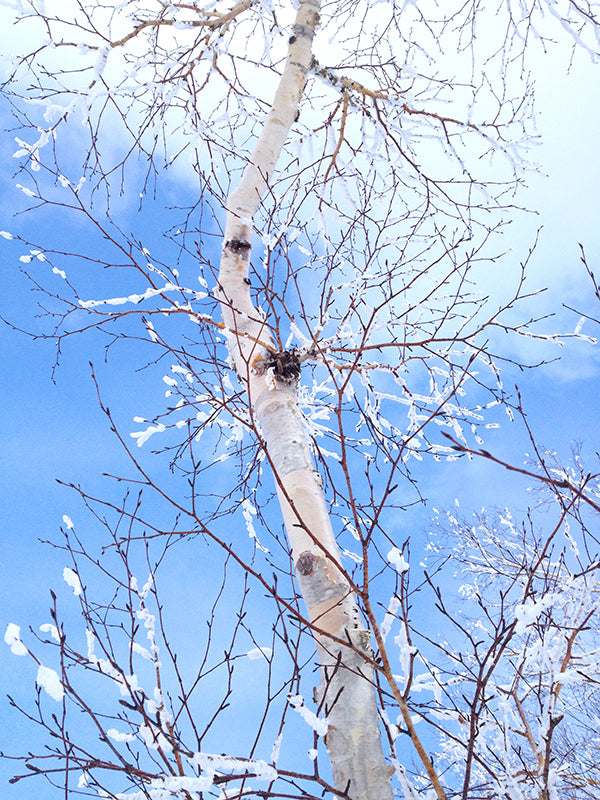 Sometimes I went along too, and the sights we saw when we were off trail were just incredible. It felt like we were in another world, surrounded by pines and gently falling snow, a serene hush all around and not a soul in sight.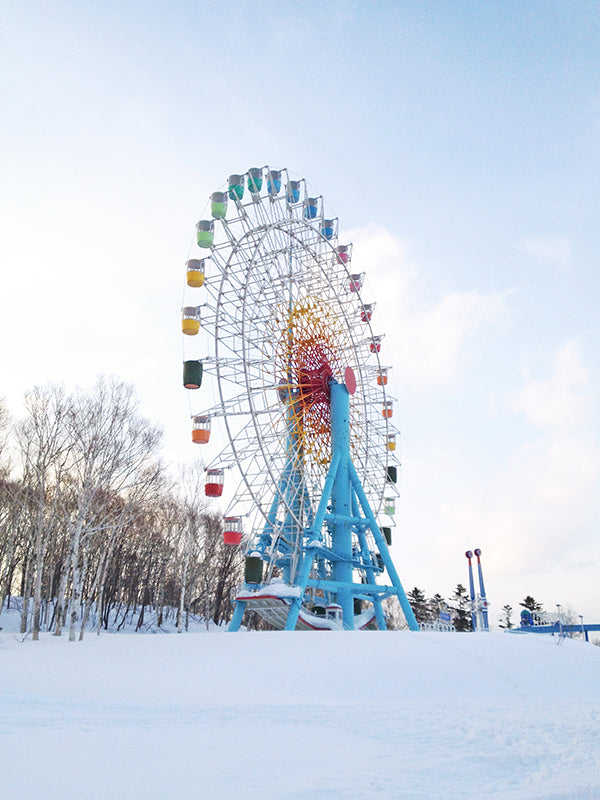 And just when we thought we couldn't possibly see anything more amazing, we'd happen across something like this ferris wheel at the top of a ski run. Crazy right? I tell ya, only in Japan!
The Snow and Ice Festivals
If you're in Sapporo in early February, make sure you check out the Snow Festival. In fact, there's pretty much no way you can miss it as it spans several blocks of the city centre and attracts a huge crowd (if there's one thing I learnt while in Japan, it's that they really know how to do things on a grand scale).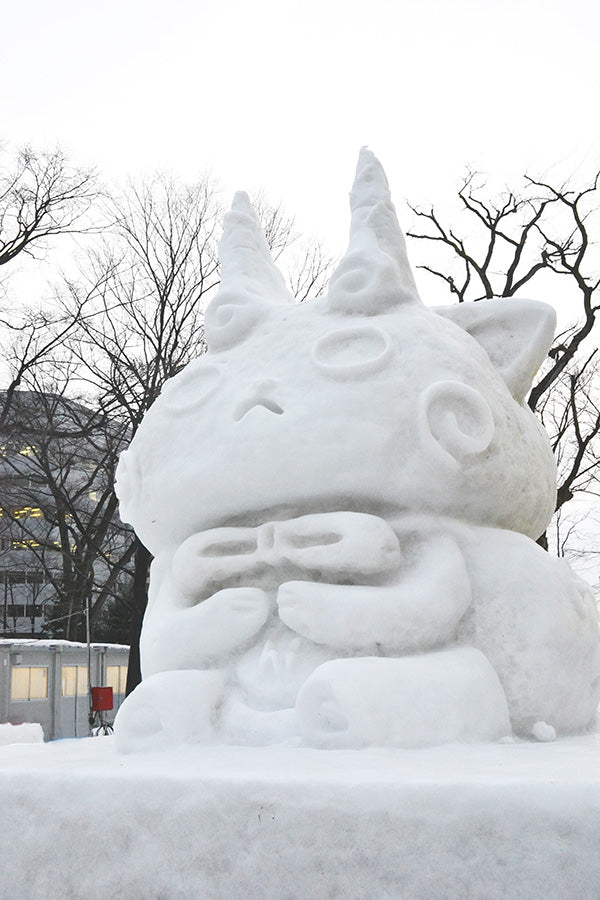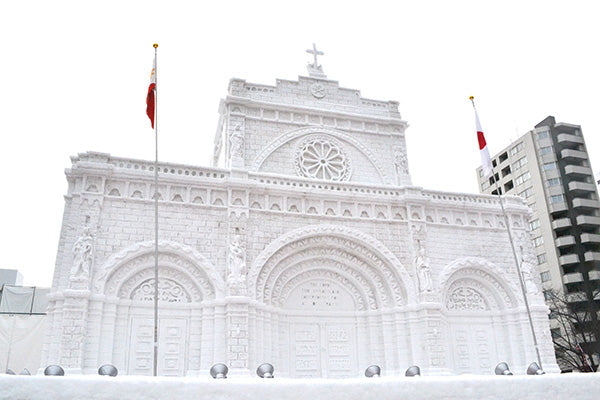 The Snow Festival is held in Odori Park and there's lots to see and do so I'd recommend setting aside half a day to wander around and take in all the activities on offer. We spent the good part of an afternoon viewing the main attractions like the amazing snow sculptures, the ski jump competitions, some stage shows and the food stalls and then we also went back a few times at night to eat street food and soak in the atmosphere.
While it's best to take in parts of the Snow Festival during the day (that's when a lot of the activities take place), it definitely pays to go back at night when they light up the larger snow sculptures and all the trees glow with fairy lights. 🙂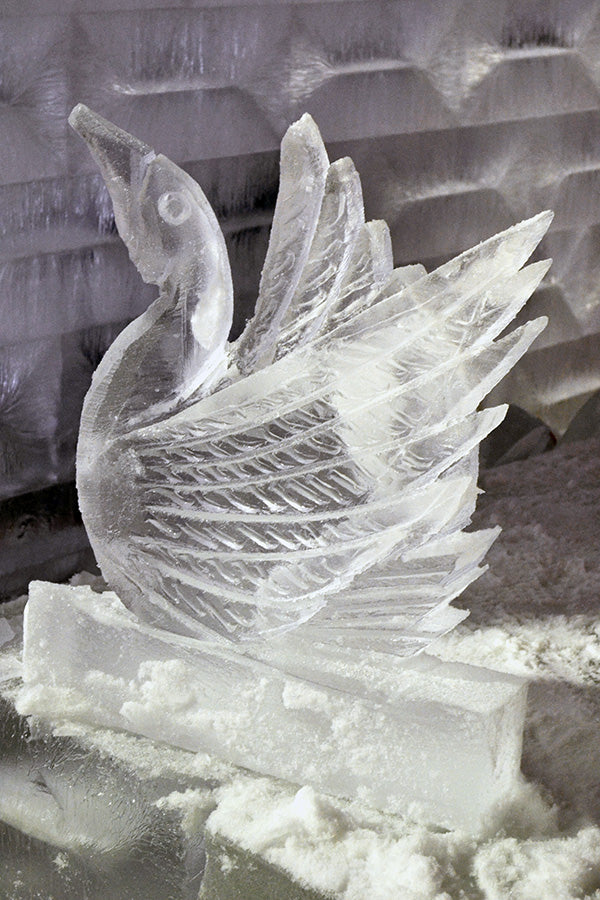 And if you're heading to the Ice Festival (which is down the road in Susukino), definitely go there after dark as the ice sculptures are at their best at night when they're lit up from behind. If you're lucky, you might even see them working on new sculptures as you're wandering around!
The Ice Hotel
While we were in Sapporo, we spent most of our days skiing or at the festivals. It was only on our last day that we saw an ad for the Royce' Ice Hotel and since we didn't have anything else planned (we were too exhausted to ski anymore!) we booked our tickets and hopped on a bus to check it out.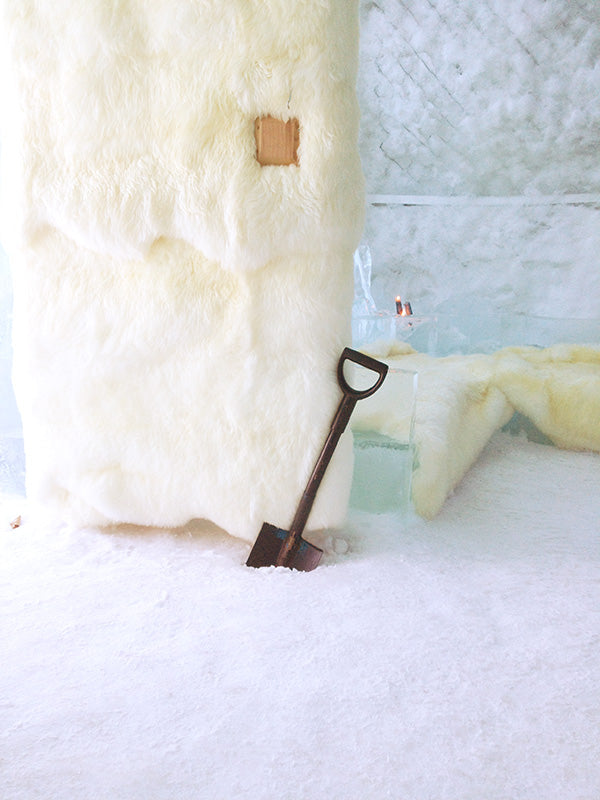 The hotel was located about an hour's bus ride away from Sapporo city, situated on a golf course that was completely covered with snow. Being so far away, there was plenty of open space to do things like ride snow mobiles, snow bikes and toboggans. This was the first time in Sapporo that we'd found ourselves in the snow without having skis attached to our feet, so we had a blast just playing and exploring.
Side note on the snow mobiles: You know how women are sometimes stereotyped as being bad drivers? Well, I'm really sorry ladies, but I did us all a disservice when I got on those snow mobiles. I was TERRIBLE. Seriously awful. I'm talking so bad there are no adjectives to describe how embarrassing I was. Somehow, I found myself going left when everyone else was going right, I couldn't keep a straight line, I kept stopping and starting – it was like I'd never driven a vehicle before in my life (which isn't true!).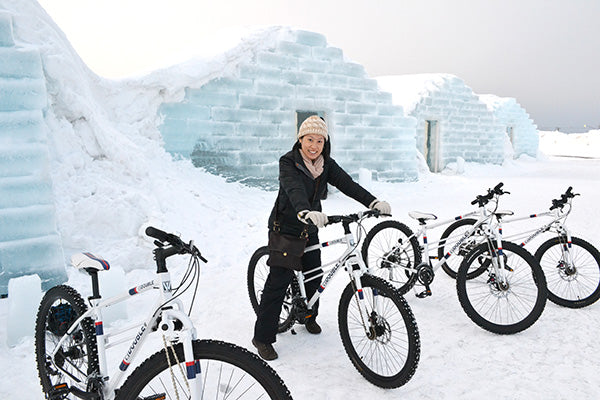 Incompetent driving aside, snow mobiles are fun and I would ride one again in a heartbeat (whether anyone will let me get on one again is another story!). The ice hotel was also great and sipping mulled wine while sitting on furs in an igloo was a wonderfully unique experience. However, our afternoon here wasn't cheap – the bus ride alone was around $35 AUD for a round trip and each activity we wanted to try added another $20 to $30 AUD on top of that. Just something to keep in mind if you're watching your spending.
Also, because it's in such an isolated location, once you've explored the grounds and had a few drinks there isn't much else to occupy your time. All in all, if you do decide to check this place out, you shouldn't need to set aside more than an hour (plus travelling time) to enjoy everything there is to offer.
A USEFUL TIP WHEN EXPLORING JAPAN
Look for the underground tunnels! It took us awhile to clue into the fact that we didn't seem to see that many people on the streets in the colder parts of Japan. At first we thought it might be because everyone was at work. Then one day we ducked down a stairwell to try to escape the cold only to find an underground tunnel packed full of shops, restaurants and locals bustling to and fro between various parts of the city. Genius! If you're travelling in winter, find these tunnels – they'll save you from turning into an icicle in the freezing outdoors!
Okay, I swear I'm not trying to stretch out my travel stories ad infinitum but I just couldn't fit Tokyo and Osaka into this post, especially after I spent so long gushing about the snow. Tune in next week for the final part of our trip to Japan and in the meantime, have a great weekend!
xx Steph